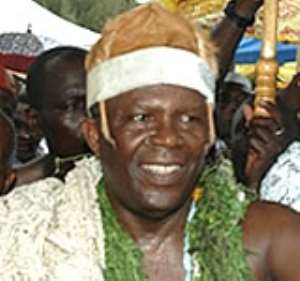 The newly enstooled King of the Gas, King Tackie Tawiah III says he will do all he can to reclaim lost Ga lands.
King Tackie Tawiah III was speaking on his coronation at the Ga Mantse Palace at Kaneshie in Accra.
He succeeds the late Bonnie Nii Amugi II.
The ceremony passed off without incident despite threats of confusion and disruption from rival factions challenging the legitimacy of the new King.
There was a heavy security presence at the coronation grounds. The Divisional Police Commander for Accra West Division ACP Fatima Fuseini said some fifty officers assisted some other plain clothes security personnel to secure the venue.
The main event started at about 3pm with a number of sub chiefs in the Ga State filing out to greet the gathering ahead of the Ga Mantse, King Tackie Tawiah III.
Adorned in a cream lace cloth with animal skin for a crown, he continuously waved a short broom stick to acknowledge the cheers. There were traditional prayers by the Nai Wulomo, who took a swipe at those opposed to the installation of the new Ga Mantse.
Government was represented by the Minster for Tourism and Diasporan relations Jake Obetsebi Lamptey, the Greater Accra Regional Minister Sheik I. C. Quaye, the Metropolitan Chief Executive, Stanley Adjiri Blankson and Minister for Chieftaincy Affairs, Samson Kweku Boafo. He expressed government's support for the new king.
The Sempe Mantse, Nii Adote Obuor reiterated that King Tackie Tawiah III is the undisputed King of the Ga State and added that opposition to his enstoolment is baseless.
The highlight of the coronation was the slaughtering of a bull at the grounds. The new King together with some sub chiefs then dipped their left toes in the blood on the neck of the beast.
In a brief speech King Tackie Tawiah III said the Ga State has been deprived for far too long and pledged to do all he can to uplift its image.
In the immediate however, the challenges to his authority still remain and his ability as the new Ga King to reconcile the various factions would be tasked heavily.