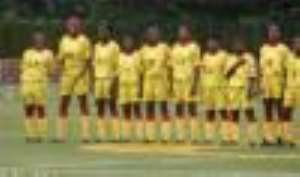 For football's highest scoring sides, Ghana included, Thursday on the Hull grounds will not be forgotten as the Black Queens romped to a 14-0 win.The Black Queens humbled the representative ladies team from the UK National Fire Service 14-0 on Thursday in their second test game.
The second game was the last test match for the Black Queens who continue with preparations for a third successive World Cup appearance.
Team captain Adjoa Bayor and 17 year-old attacking sensation Anita Amankwah both grabbed hat-tricks on the day against the UK National Fire Service side.
Earlier in the week, Ghana's team put up a four-star performance against the women's side of Leeds United handing the English side, a 4-0 defeat at the University of Hull grounds in England.
The women's team will return home to continue with preparations when their tour of England comes to an end next week.
Ghana, who have qualified for the 2006 FIFA Women's World Cup to be hosted by China later his year have chosen the University of Hull as their training camp.
The choice of the educational institute by the Black Queens team is the result of the Ghana Football Association's collaboration with the University of Hull as their official educational partner.
The final draw for the World Cup comes off in Wuhan (China) on 22 April with the FIFA World Cup taking place in Chengdu, Hangzhou, Shanghai, Tianjin and Wuhan from 10 to 30 September.
Ghana's Black Queens head to the FIFA Women's World Cup for a third successive time at the World Cup.