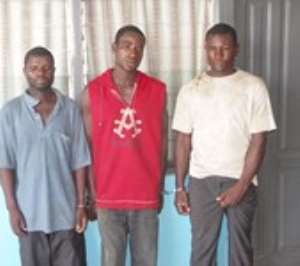 Three cattle rustlers at the Tema Police Station after their arrest. They are from left, Tetteh Daitey, 25, fisherman, Foster Akutei Manotey, 23, driver's mate and Nii Akrofi, alias Akotia, 23, boxer.
They allegedly stole 60 cattle from a kraal in Adjomanikopey, near Ada, and drove them through the bush to Mataheko, near Afienyah, and attempted selling 40 of them to the 2006 National Best Farmer, Mohammed Akpah, on Monday for ¢1 million each.
Mr Akpah alerted the police who arrested them.