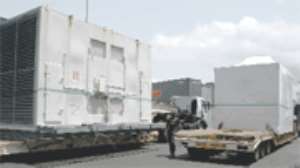 A Consortium of four mining companies in the country yesterday took delivery of a power plant to augment the energy delivery system.
The plant, valued at $45 million and expected to generate 80 megawatts of power for the mining companies, was transported into the country from Portland in the United States of America on Wednesday night.
The mining companies — Newmont Ghana Limited, AngloGold Ashanti, GoldFields Ghana Limited — and Golden Star Resources Limited as a result of the plant would have their energy supply levels boosted from their current level of about 35 per cent to an almost optimum capacity.
Briefing journalists in Tema yesterday, the Chief Executive Officer of the Ghana Chamber of Mines, Ms Joyce Aryee, described the initiative as good news because the demand on the Akosombo Dam was going to be eased in order to stem the tide of the load-shedding exercise.
She said the plant was also going to serve as a reserve for the country in the absence of a power crisis in the future, adding that it was important for the nation to explore other sources of energy rather than depend solely on hydro power.
Ms Aryee commended the mining companies for their proactive stance and said the country needed such interventions to save the Akosombo Dam from total collapse in its current energy crisis and, therefore, called on politicians to stop apportioning blame and rather try to help the Volta River Authority to resolve the problem.
The Manager in charge of Energy and Business Planning of Newmont Ghana, Mr Joshua Kwame Mortoti, in an interview, said the mining companies would expend a total of $10 million a month on running the plant.
He indicated that the plant would take about three months to install after which it would be operated by the VRA and added that it would be handed over to the government to control.
Civil works were ongoing to have the energy plants installed when journalists visited the plant site at Tema Newtown, near the Tema Oil Refinery yesterday.