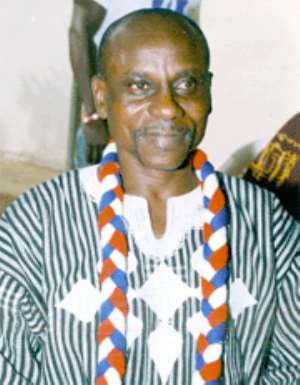 The newly-elected Member of Parliament (MP) for Nkoranza North, Major Derek Oduro (retd), was sworn in on Tuesday as a member of the House by the Speaker, Mr Ebenezer Begyina Sekyi Hughes.
He swore an oath to the State and the House and pledged to serve the nation and the people in humility to the best of his ability.
Mr Sekyi Hughes welcomed Major Oduro to the House and urged him to work hard to justify his election by the people of Nkoranza in the Brong Ahafo Region.
The Minority Leader, Mr Alban Sumani Bagbin, welcomed the Nkoranza MP-elect to the House and urged him to learn from his colleagues to be abreast of parliamentary procedures.
He drew the Nkoranza North MP's attention to the fact that he was elected to serve and articulate the concerns of the electorate and for that matter should be prepared to render selfless service to improve their quality of life.
Mr Bagbin said the responsibility placed on him by the people to initiate programmes and policies to improve their well-being was an onerous one with little reward.
The Minority Leader reiterated his appeal to the authorities to improve the conditions of service of MPs to enable them to effectively discharge their duties to the nation.
He called for a thorough review of the country's electoral processes, since it conferred greater advantages on the ruling party.
"The issue of incumbency, the involvement of State institutions in by-elections and the Level of freedom by political activists should be examined in the light of the detention of some functionaries of the National Democratic Congress on the day of the by-election in Nkoranza North," he said.
Mr Felix Owusu-Adjapong, Majority leader and the Minister of Parliamentary Affairs, for his part, congratulated Major Oduro on his election as the new Member of Parliament for Nkoranza North.
He said the massive votes that he secured indicated that the broad masses in the constituency had confidence in his ability to manage their affairs.
Mr Owusu-Adjapong said the government that believed in the equitable distribution of resources did not abandon the constituency after the detention of their MP in the United States of America.
He said further that the leadership of the House would guide Major Oduro in the days ahead to enable him to be useful in the deliberations of the House.