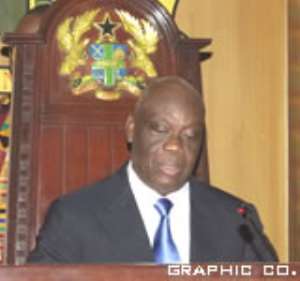 After short listing three people and interviewing them for the position of Clerk of Parliament last year, the Speaker of Parliament is being accused of 'kululu' and cronyism in the recruitment of a new clerk.
The Parliamentary Service Board, which is headed by the Speaker, Rt Hon. Ebenezer Sekyi Hughes has directed that the position should be re-advertised. This has incurred the displeasure of deputy and principal assistant clerks of Parliament because they say the re-run of the advertisement is for an outsider who did not meet the deadline for the submission of application letters to become the next clerk.
And so what should have passed silently as a normal job advertisement published by the Office of Parliament in the dailies last week, is brewing trouble in the August house.
If the situation persists, it will soon lead to one of the most embarrassing moments in the existence of Ghana's Parliament as the deputy and principal assistant clerks are gearing up fro a massive demonstration against the Speaker.
The protest, according to the junior clerks will be to curb what they see as the speaker's creeping favoritism approach in employing officers of the August House.
They accused the Speaker of unilaterally employing people including, Mrs Rose Keddey as a deputy clerk and Kwesi Eshun, a student of Ghana School of Law as the Director of Research into the House.
But the central point of the demonstration will be against attempts by the Speaker and President Kufuor to appoint the ex-Executive Secretary of the defunct NRC, Prof Ken Agyeman Attafuah as the next clerk of Parliament.
Kenneth E.K Tachie, the incumbent clerk has since last year attained the statutory retiring age of 60. An advert was caused to be published in the dailies by the Parliamentary Service Board.
Three deputy clerks, Mrs Rose Keddey, Emmanuel K. Anyimadu and John G.K Agama applied were short listed by a panel chaired by an ex-NPP, Mr Darko Mensah.
However, Mr Anyimadu who is said to have performed extremely well had to be sidelined for being too young for the position. Mrs. Keddey who the Speaker wanted for the position did not perform well at the interview and was therefore dropped.
Mr Agama, who is Mr Tachie's immediate assistant and who was widely tipped for the position is said not to be in the good books of the Speaker. Therefore, the Speaker unilaterally asked the panel to re-advertise the position again in the dailies.
The reason for the re-advertisement last week in the Daily Guide and the Daily Graphic according to parliamentary sources is to enable Prof Attafuah meet the deadline when the first advert was ran.
Source: The Enquirer