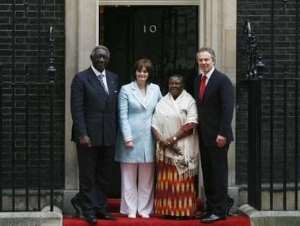 Britain's Prime Minister Tony Blair (R) and his wife Cherie (2nd L) pose with Republic of Ghana President John Agyekum Kufuor (L) and his wife Theresa (2nd R) outside 10 Downing Street in London March 14, 2007
Wednesday, Ghana's President John Agyekum Kufuor and Prime Minister Tony Blair of the United Kingdom announced to the press that the two countries will unveil a ten-year development plan next year. It will be the first time the United Kingdom joins forces with another sovereign republic to come out with a joint development plan.
Announcing it at a joint news conference at Downing Street, Mr Blair showed why Her Majesty"s government, after fifty years, finds the timing appropriate for this type of enhanced partnership. He said President Kufuor has demonstrated strong leadership and shown remarkable capability and prudence in making good use of financial support to Ghana.
Mr Blair observed that poverty has been reduced and that the fight to raise the quality of life of the people is on course.
President Kufuor also welcomed the project, adding that Ghana's aims to attain middle income status within the next decade and diversify her economy beyond raw materials.
If implemented, the joint development plan would be the UK's boldest assistance to this country's development since Governor Guggisberg's 10-year development plan in the 1920s.
While details are still sketchy, snippets received by The Statesman indicate the plan should see Britain taking a more active role, in terms of know-how, funding and logistics, in Ghana's development, "but as equal partners," the source stressed.
The plan is expected to make the brain-drain issue a formalised win-win situation for both Ghana and the UK, with greater investment in the training of health workers. The exchange of knowledge, especially in the science and technology field is expected to be high on the agenda.
It should also see the British government creating incentives and actively encouraging the private sector in Britain to invest in the Ghanaian economy as the "gateway for Africa" and also undertake some major infrastructural projects in Ghana, co-funded by the two countries.
"Britain seeks to be more actively engaged in Ghana to compliment and supplement other efforts but not to limit Ghana's hands in how she moves forward," the source said. Britain over the years has already been Ghana's largest bilateral development partner.
But, the joint development plan model is designed to take the partnership to another "positively unprecedented level," the source stressed.
It may be recalled that the development plan of Sir Frederick Gordon Guggisberg (Gold Coast governor, 1919-27) provided both economic and social infrastructure, in the construction of a harbour (Takoradi), college (Achimota) and hospital (Korle Bu), while it improved transportation and encouraged agriculture.
A source at the Foreign & Commonwealth Office, Charles Street, London, hinted The Statesman that this unusual tightening of relationship stems from the combined commitment of both Prime Minister Blair and his boss, Queen Elizabeth II.
The Queen, the source says, believes Britain should, upon invitation, do more to help Ghana start the next fifty years on a much better footing. The symbolic significance of this may be to show that the first country, south of the Sahara, to free itself of British colonial rule "can succeed and has succeeded."
Tuesday, the Queen pledged, "As Ghana moves to face these challenges, she can rely on the United Kingdom as a strong supporter, a dependable partner and a loyal friend."
Britain feels it "has a shared responsibility" in this regard, especially, since Ghana has done "so much in the last decade or so to reassert itself as the leading black star for the continent's peace, security and prosperity," the source explained.
Mr Blair also does not want to see his extraordinary investment of energy in the African agenda whittled away after his departure. Picking Ghana for particular attention, it is said, could do what Tony Blair's Commission for Africa's report, launched since 11 March 2005 has so far failed to tangibly achieve.
Though the British Prime Minister led a commendable crusade for Africa in getting European leaders to sign an agreement on aid and trade at the G8 summit at Gleneagles two years ago, the charity group, Oxfam, a few days ago observed that Mr Blair's "vision" on aid risked being deeply undermined.
It has urged him to make the fight against poverty in Africa a priority for his time left in office.
Ghana is not celebrating its fiftieth anniversary alone. The European Union also celebrates its golden jubilee this year. Yet, according to OXFAM, donations from rich nations have fallen since Blair's Commission for Africa report two years ago sought more aid.
The treaty establishing the European Community (as Amended by subsequent treaties) was signed in Rome on March 25, 1957, 19 days after Ghana's Independence. It is believed to have greatly inspired Kwame Nkrumah's for a united states of Africa.
In an interview with the BBC, Britain's International Development Secretary said the UK was working to ensure G8 donors keep the promises made.
"The German G8 Presidency in 2007 has made development in Africa a top priority which shows continued determination by rich countries to help tackle the issues facing the continent," Hilary Benn added.
The question is, would Britain's extra commitment to Ghana stay above or fall under its avowed commitment to spending 0.7% of national wealth on aid by 2013, two years ahead of a UN target?
Yesterday, President Kufuor received an Honorary Fellowship at the John Moore University in Liverpool, where he also delivered a Roscoe Lecture, entitled 'Human Rights and the Citizen' in Liverpool's St George's Hall.
Professor Michael Brown, LJMU's Vice Chancellor said:
"We are honoured to welcome His Excellency John Agyekum Kufuor to the University and to the city of Liverpool.
"Few other individuals, or nations, so clearly exemplify the University's ethos of Dream, Plan, Achieve. John Kufuor and the people of Ghana have striven against unrest and instability to develop a vigorous democracy that sends out a positive signal in a volatile region of Africa and beyond.
"As Ghana celebrates the 50th anniversary of gaining independence, there could be no better time for the University to recognise such an outstanding citizen by conferring an Honorary Fellowship."
The citation noted that after fifty years of Independence Ghana is now seen as a model for political and economic reform in Africa. "Known as the 'Gentle Giant', John Kufuor was first appointed President of Ghana in December 2000, marking the first peaceful, democratic transfer of power in Ghana since independence. He won a second term four years later, in a presidential poll praised for being well-run and orderly.
"John Kufuor has also taken a leading role in mediating regional conflicts, including those in Liberia and the Ivory Coast. His commitment to increasing co-operation amongst African countries is reflected in his election in January 2007 to the presidency of the African Union, the continent's most influential multilateral body."