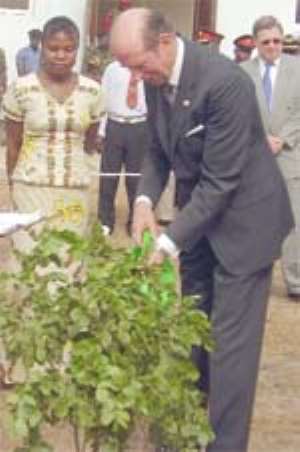 PRINCE EDWARD, the Duke of Kent, yesterday visited the Kofi Annan International Peacekeeping Training Centre (KAIPTC) in Accra.
Led by Major- General J.K. Attikpoe, Commandant of KAIPTC, the Prince unveiled a commemorative plaque for the construction of a lecture and administrative block complex for the Junior Division of the Ghana Armed Forces Command and Staff College (GAFCSC).
He also took part in the commemorative tree-planting exercise at the Centre.
The project, awarded on contract in September last year, is being funded from a UK grant of ¢10.8 billion, and a Ghana Government component of ¢6 billion.
Comprising a 40- living room accommodation, the administration block is expected to be completed by end of July, this year, while the expansion of the Staff College would be ready by October.
The Duke of Kent, who represented the Queen of England at the Golden Jubilee celebration, said the projects indicated the fruitful co-operation between the two countries.
He therefore pledged his country's continued support to the Ghana Armed Forces.
The Defence Minister, Dr Kwame Addo-Kufuor, gave an account of a long history of bilateral co-operation between the two countries, which he said had contributed immensely to the development of many sectors of the economy.
He indicated that the project was the latest addition to a tradition of consistent support by the British Government to the Armed Forces.
Present also at the ceremony was Lt. General J.B. Danquah, Chief of Defence Staff.
In another development, Prince Edward, on Tuesday, inaugurated the West Bridge Programme at the Kotoka International Airport.
The programme is meant to train Customs and Narcotic Board Officers to be able to detect narcotic drugs and minimize drug trafficking in Ghana.
Briefing the media after the inauguration, the Corporate Communications Manager of the Ghana Civil Aviation Authority (GCAA), Eric Noi, said the West Bridge Programme was instituted by the British Government in November 2006, to enable Customs Officers from the UK train their counterparts in Ghana, on how to detect narcotic drugs on passengers.
Lately, narcotic drugs are hidden in wood carvings and locally-made drums by airline passengers.
Mr. Noi advised people who had the intention of smuggling drugs through the Kotoka International Airport to desist from the practice.