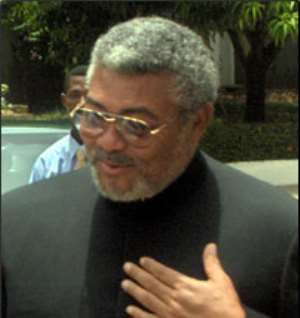 The Member of Parliament (MP) for Sissala West, Haruna Bayirga, has appealed to former President J. J. Rawlings to accept the invitation to participate in the Ghana @ 50 celebrations in spite of his differences with the government.
Mr Bayirga who made the appeal through an interview with the Times at Parliament House on Thursday said the celebration of Ghana's 50th anniversary will not be complete without his participation.
Mr Bayirga who is the People's National Convention Member of Parliament said it was appropriate for Rawlings to accept the invitation "in the spirit of national reconciliation and our resolve to bring all differences and let bygone be by-gones."
Mr Bayirga's appeal comes in the wake of media speculation that the former President may not participate in the activities marking the Golden Jubilee anniversary celebration owing to frosty relations between him and the government.
On February 15, a group of eminent Ghanaians made up of some members of the Council of State and religious leaders extended an invitation to former President Rawlings on behalf of the government to take part in the celebration.
However, it still remains unclear whether the former President would respond to the invitation.
Commenting on the activities marking the country's 50th anniversary, Mr Bayirga expressed regret that MPs as representatives of the people have not been involved in the planning of the activities.
He said the activities marking the anniversary appeared to be urban-centered thereby ignoring the home towns of former President Hilla Limann, Prime Minister Kofi Abrefa Busia and the founder of the country, Osagyefo Dr Kwame Nkrumah, in the scheme of things.
Mr Bayirga claimed that there were no visible projects at Nkroful, Wenchi and Gwollu to immortalize Dr Nkrumah, Busia and Dr Limann, respectively, for their service to the country.
"It is not too late, we can make amends and make their hometowns and family members feel part of the programme," Mr Bayirga added.