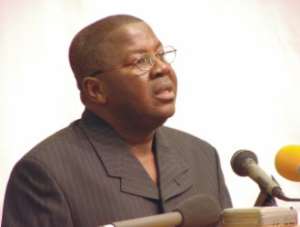 Vice President Alhaji Aliu Mahama has asked journalists to give adequate coverage to developmental issues and convey the necessary feedback to Government for informed policy formulation.

"It is not only politics that make news, but other developmental issues that affect the very core of our livelihood," he said at the launch of a 398-page book: "Jubilee Ghana, A 50-Year News Journey Thro' Graphic, published by Graphic Communication Group Limited (GCGL).

He said "Our rural communities need such basic amenities as potable water, housing, good health and freedom from ignorance. I believe there is no better way to influence such issues than through the media."
Vice President Mahama lauded the management of Graphic Communications Group for blazing the trail but added that as a developing nation, Ghana deserved more interplay between the people and the Government.
He said all over the world good newspapers had been known not only as conduit for the dissemination of news but also as moulders of public opinion.
"It is this task that we as a nation of 50 years expect from our media," he added.
Vice President Mahama said the book would serve as a great source of history.
"The contents of this book would provide a one for all source from which the elderly would derive an opportunity to relive history; the relatively young ones would reflect over the achievements and disappointments of the past. And for students and researchers, valuable leads to events over the 50-year period," he added.
Vice President Mahama said the Golden Jubilee celebration of Ghana's Independence was an occasion for deep reflection as well as celebration.
"Deep reflection because as it is said an unexamined life is not worth living. It is a good opportunity for us to look back to see where we have come from, where we are now and where we are now going."
"It is also not only an opportunity to celebrate this important milestone of our nationhood but also to exhibit our dynamic culture to the entire world whilst reigniting Ghana's pre-eminence on the African Continent," he added.
Professor Kwesi Yankah, Pro-Vice Chancellor of University of Ghana, who reviewed the book said the book had shifted the focus of publications in the Graphic from the gate-keeping role of the media to delve into the realm of history.
However, he warned that when journalists were writing history it could enhance the process or subvert it.
Prof. Yankah said the book had captured the entire story of Ghana's contemporary history.
He said it comprised the odd things of life such as a man biting a dog, politics and social issues.
The Pro-Vice Chancellor said management of Graphic Communications Group had pioneered excellence in the print media and a generic word for the newspaper industry in Ghana.
Osaahene Kwasi Offei Agyeman IV, Krontihene of Akropong-Akuapem and Chairman of the Board of Directors of GCGL described the book as a reference point of history.
Berfi Apenteng, former Managing Director of GCGL said the book which started as a dream was made a reality through the hard work of staff of the company to facilitate review of the country's performance since 1957.
Source: GNA