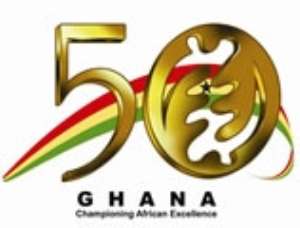 One week to Independence Day on March 6, the sale of paraphernalia to mark the country's Golden Jubilee has reached a crescendo.
On sale at various points and outlets are T-shirts, caps, cups, the national flag in different size, key holders and other souvenirs.
It is a field day for dealers and vendors alike to reap as much as the enthusiastic public is ready to buy.
The Ghana @ 50 Secretariat itself is bubbling with activities as people crowd there daily to order commemorative items including anniversary cloths.
Ms. A. Isha Sumailah, Marketing and Branding officer, told the Times that the items were in short supply and the secretariat has placed orders for more from sources she declined to disclose.
Reacting to complaints that the anniversary cloth was expensive, Ms. Sumailah said the price for a full piece was ¢360,000 but for bulk purchase of 50 pieces and above, it is ¢300,000
A source at an outlet for the sale of the cloth told the Times that the Ghana @ 50 secretariat was responsible for the pricing of the cloth and could not explain why they were sold at that price.
He said Plateria Company was contracted by Ghana @ 50 Secretariat to supply the cloth produced by Printex, Akosombo Textile Company and other companies.
A woman came to the Secretariat to buy some paraphernalia commented "Ghanaians are patriotic indeed, I also want to identify myself with that spirit."
She said the prices of the items are okay.
In any case she said the prizes had already been fixed and she could do nothing about it.