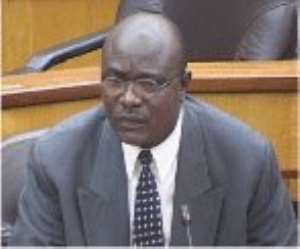 MPs from NDC benches who have been on indefinite boycott of Parliament since February 6 2007 because their colleague, the MP for Keta, Dan Abodakpi had been jailed after a five-year-trial on fraud and causing financial loss to the state have called off the boycott.
John Tia, their Chief Whip said the decision was taken by the Minority Caucus in consultation with the Functional Executive Committee of the NDC.
Whoever and whatever is the so called Functional Executive Committee of the party took a gamble that has misfired because apart from making a nuisance and laughing stock of the Minority caucus, they did not achieve anything with the boycott. Dan Abodakpi was not released and even more worrying, they succeeded in setting the legislature on a collision course with the judiciary. That cannot be good for our democracy, rule of law and the principle of separation or powers.
In over reacting the way they did, they have probably jeopardized Mr Abodakpi's appeal chances and put fear in the judiciary. The abduction and murder of three High Court judges by agents of the forerunner of the NDC-the PNDC- is still painfully alive.
After all the tension their ill advised decision caused, these NDC MPs cannot just slink back to Parliament without apologizing for their shameful action. The people of Ghana deserve some contrition from these misbehaving MPs.
Source: The Accra Daily Mail