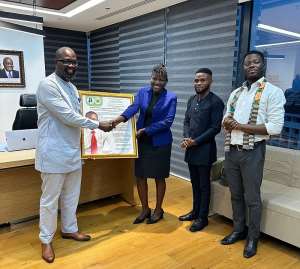 Bulk Oil Storage and Transportation Company Limited (BOST) Managing Director, Edwin Alfred Provencal, has been awarded the prestigious "Exemplary Brand Leadership Award" from Brand Ghana.
In recognition of his achievement, the Ghana Union of Professional Students (GUPS) has presented him with a citation to encourage him to continue to work even harder.
In a speech, the President of GUPS, Ms. Emily Jemimah Nyarko, congratulated Mr. Provencal on the award and expressed his admiration for his outstanding leadership skills.
She also commended him for his commitment to excellence, which has led to the growth and success of BOST.
Mr. Provencal, in his response, expressed his gratitude for the award and recognition.
He also thanked his team at BOST for their dedication and hard work, which has made the company what it is today.
The Exemplary Brand Leadership Award is a testament to Mr. Provencal's dedication and commitment to his work, and it is hoped that this recognition will inspire him to continue to lead BOST to greater heights.