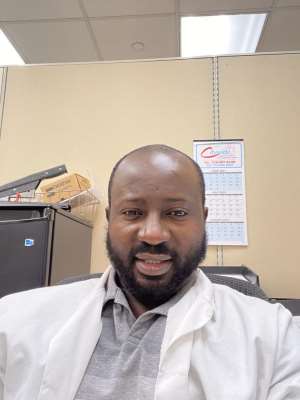 Mr. Solomon Kumah
My reason to help organise this maths and science quiz competition is to assist the younger generation by impacting them with the requisite knowledge that will prepare them for the future ahead and I am grateful to be part of their stories yet to be told, Mr Solomon Kumah has said.
He disclosed this when speaking on the launch of the 2nd edition of the Science and Science Quiz competition by the New Juaben North Municipal Education Directorate and Mr. Solomon Kumah with the media.
According to the US-based Ghanaian, science and maths quiz competitions played an important role in his educational career as he represented his alma matas, Effiduase Presby and Asokore Methodist schools respectively on many occasions.
Mr. Solomon Kumah also emphasised those opportunities he got at the time gave him exposure and other benefits in his educational career and therefore thought it wise to do same for the young ones.
He was grateful to the Education Directorate and all other stakeholders for their support and assured them of his readiness to ensure the quality of education in the municipality is well improved.
Mr. Solomon Kumah is a Ghanaian based in the United States who has a keen interest in the well-being of the people and also the future of the next generation.
Meanwhile, the Municipal Education Director, Madam Bervely Dansoa Bartels on her part revealed the maiden edition held last year had a massive impact on the performance of students in their BECE results and was optimistic it will be much better this year as well.
She noted representatives from New Juaben North came second in the regional maths and science quiz organised last year and urged those who will be in the contest to do their best to win the ultimate.
She was, however, grateful to Mr. Solomon Kumah for his continuous support in organising the events as well as his commitment to the improvement of education in the municipality.
Some contestants and students who shared their experiences with the reporter could not hide the fact that the competition has been a morale booster for them as far as maths and science education is concerned.
They indicated the maiden edition has improved their morale in learning the subjects because of the earlier perception that science and maths are difficult to study.
With respect to maths and science teachers present, they underscored the importance of the competition to them as it exposes them to their weaknesses and also inspires them to do more per the performance of their school reps.