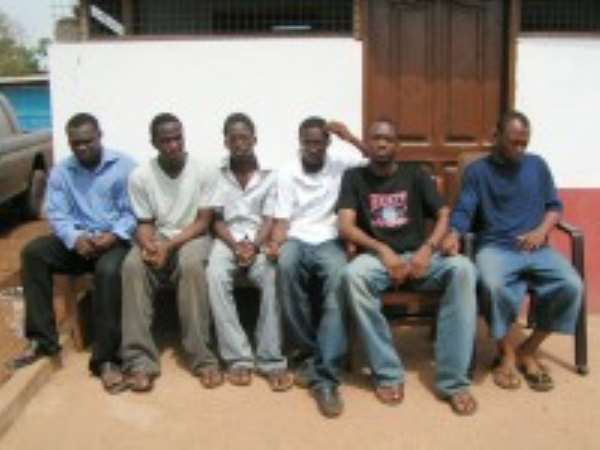 THE four Nigerian students wanted by police for allegedly brutali-sing a worker of the University of Ghana, Legon, on January 22, have surrendered to the police.
Nwosu Iheanyichukwu, Anyoku Ndodebe-Chukwu Arinze, Ifiyeye Sanni and Ohachenu Justice Somadina, were said to have reported to the Legon police on January 27, a day after the Times published the story.
Two others, Ofuru Chinede Noble, 22 and Ogunnowo Omotope, 21, who were earlier arrested were arraigned before court last Thursday and were remanded in police custody until February 1.
The six students, all level 300, were alleged to have applied cruel punishment to get a cleaner at the university to confess to the theft of a lap- top computer.
They allegedly pinned their suspect, Philip Ettuh, 37, to the ground, heated an electric iron and pressed it against his upper body a number of times. The incident was said to have happened on Monday, January 22 when the six students arrived at the campus and employed Ettuh's services to get their belongings to their room.
DSP Michael Teku, Legon District Police Commander, said the law is no respecter of persons, stressing that anybody who takes the law into his own hands must bear the consequence.
He said there had been a series of crimes on the university campus which involved Ghanaian students and they were all given the appropriate punishment according to law.
Mr. Teku stressed the need for students to abide by the laws of the land and live according to the rules and regulations of the university so that they do not find themselves in trouble.
He said anyone who had any problem on campus should report to the police to take action by investigating to establish if a crime had been committed.