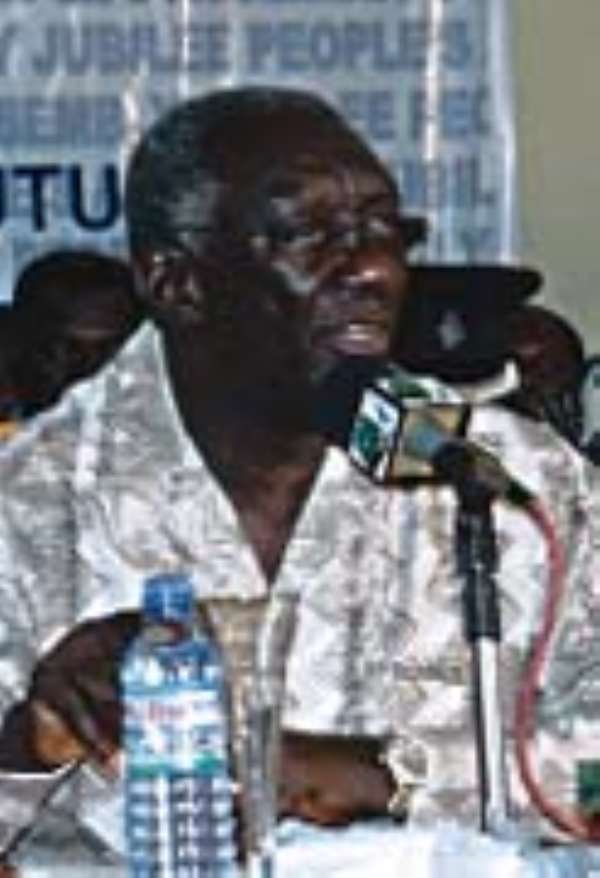 President J. A. Kufuor on Wednesday inspected a number of development projects at the beginning of a two-day working visit to the Northern Region.
An enthusiastic crowd met the President and his entourage at the outskirts of Tamale and accompanied him on some of his rounds to inspect some of the projects in the Tamale metropolis.
He inspected the new Tamale Stadium being constructed at the cost of $38.5 million for the CAN 2008, as well as students' hostels at the Tamale Polytechnic and the University for Development Studies (UDS).
The hostel facilities, which will be used for the CAN 2008, will be handed over to the Tamale Polytechnic and the UDS for use by the students after the tournament.
According to Mr Mike Chen, the Co-ordinator of Shanghai Construction, which is executing the project, the stadium would be completed ahead of schedule.
The project began on January 31, 2006 and is expected to be completed in September this year and handed over to the Ghana government on October 31, 2007.
Mr Chen said the superstructure of the stadium and the grid for the roofing had been completed. What remained to be done, according him, were the fixing of equipment, decoration and the growing of grass on the football pitch.
President Kufuor asked the contractors to manage to complete the work on schedule.
The President also inspected the site for the proposed Tamale Inland Transit Port at Datoyili, a suburb of Tamale.
At the Tamale Polytechnic, Mr Charles Baidoo, the Site Engineer of Antartic Limited which is executing work on one of the hostels, said the building, with the capacity to accommodate 448 students, would be completed on October 8, 2007.
The two blocks of hostel facilities for the Tamale Polytechnic are expected to cost the taxpayer ¢26 billion.
The President is programmed to cut the sod for work to begin on the construction of four bridges at Kpasenkpe in the West Mamprusi District, popularly called Overseas. The project, estimated at 10 million Euros, will link the Northern Region with the Upper East Region.
Although Kpasenkpe is noted for agricultural activities, it is bedevilled with transportation difficulties, especially during the rainy season.
Story By Nehemiah Owusu Achiaw & Vincent Adedze, Tamale