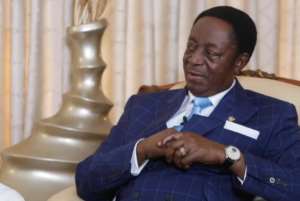 Dr. Kwabena Duffuor
Flagbearer hopeful of the National Democratic Congress (NDC), Dr. Kwabena Duffuor has stressed that he will do his campaign without insulting anybody.
This follows the shots at him fired by Ningo Prampram MP Samuel Nartey George during an appearance on the GHOne TV breakfast show.
During the engagement, Sam George alleged that Dr. Kwabena Duffuor has not paid his staff some 17 months' salary but is going around promising to bring comfort to Ghanaians when he becomes President.
"…how can we trust you in running the party, EIB, you (referring to the host) hosting me this morning, you are owed months of salary and yet Kwabena Duffour is running around promising Ahotor. He is promising Ahotor which is comfort and relaxation yet you his staff some of you are owed 17 months of salary. How are you feeding, how are you coming to work every day? So, if he cannot pay his own workers but he is promising Ghanaians that he will pay," Sam George said.
Speaking to Adom FM, Dr. Duffuor, a former Finance Minister refused to reply to Sam George.
He indicated that he finds it difficult to understand why the Ningo Prampram MP always attacks him.
"I have always asked that we stop politics of insult because it retards progress and doesn't help a party grow.
"As a Member of Parliament, you should have sympathy and reach out to the workers to know what the situation is. But he doesn't even understand why I want to be a flagbearer and is insulting me," the NDC flagbearer hopeful said while asking, "Do you do that to an elderly person?"
Dr. Duffuor, a former Bank of Ghana Governor is one of four people who have picked forms to contest the upcoming NDC Presidential primaries.