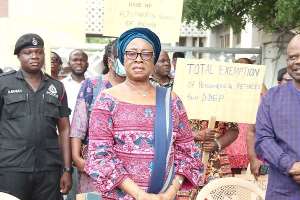 Sophia Akuffo
Former Chief Justice, Sophia Akuffo, has called on Akufo-Addo's government to invest funds earmarked for the Independence Day celebrations in meaningful projects that will benefit Ghanaians.
In her opinion, there is no point wasting scarce resources on independence celebrations when the government is struggling to rescue an ailing economy.
The capital of the Volta region, Ho, will on Monday 6th March play host to the national celebration of Ghana's 66th Independence anniversary while other regions also host their respective durbars to mark the day.
Speaking to Citi News on the sidelines of a public lecture organized by the University of Ghana on the country's 66th Independence, the former Chief Justice said, although it is good to mark the occasion, infrastructure projects and other investments would have better served the populace.
"We should celebrate our Independence Day but to gather and march does not matter. I think whatever money is going to be spent on this celebration with everybody going to the Volta region, if they had selected a deprived district and built a new school or selected a ramshackle district hospital or health centre and upgraded it and named it Independence school or independence hospital, it will be good.
"Then every year they pick a region and a project and do it, that would be money better spent…this will inure to the benefit of the people, and it will last, but they are going to talk, march, eat and come back and then that's all."
-citinewsroom