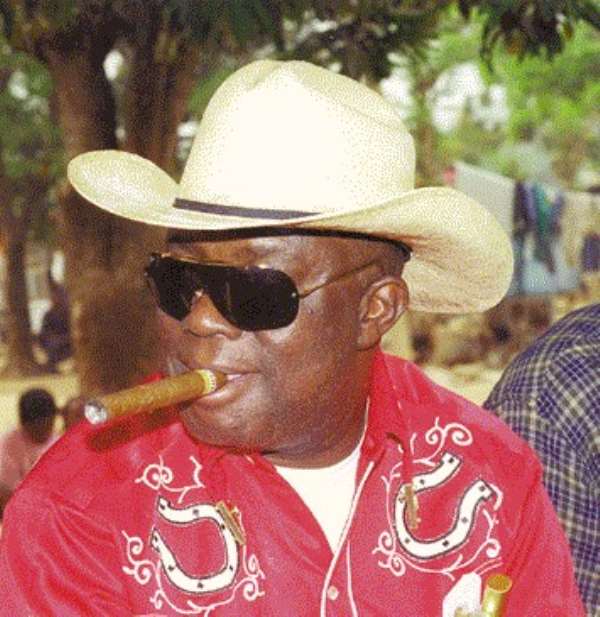 The Krontihene of Kofi Opare, near Asamankese in the Eastern Region, Nana Opare Owu, has revealed that the chiefs and people of his area voted massively for President Kufuor and the New Patriotic Party (NPP) in past elections because of the sympathy they had for Mr. Charles Kofi Wayo who was once with the party.
He said if they knew that Kofi Wayo would pull out the party, they would not have voted for the NPP and its candidates. Nana Opare Owu made this known recently when Kofi Wayo, a son of the area, paid a courtesy call on the chiefs and people of the area to donate over 100 machetes to assist the people in their farming activities.
Making the donation, Kofi Wayo told his people that it was about time he stopped giving money and food items to the people when he could do something more useful than money and food and reminded them of the adage "teach them how to fish and they will fish for themselves." He said it was based on this premise that he asked the people of Kofi Opare about what they wanted him to do for them to enhance their livelihood. He said when he asked the people they requested for cutlasses and machetes to aid them in their farming activities.
As a result he bought about 120 pieces of crocodile brand machetes and presented them to the Chief of the area, Nana Gyaasehene B. T. Parry and asked the chief to share them among the young who would want to farm but for the lack of machetes and other implements which were preventing them from venturing into the vocation.
He took a swipe at the ruling NPP government accusing it of neglecting its basic duty and responsibilities of seeing to the welfare of the masses. Kofi said it was the duty of government, who according to him collects taxes from people to provide the basic needs of the people. He deplored the bad state of the road linking Kofi Opare and surrounding villages and other major towns and described them as clear signs of the NPP government's failure to develop the country.