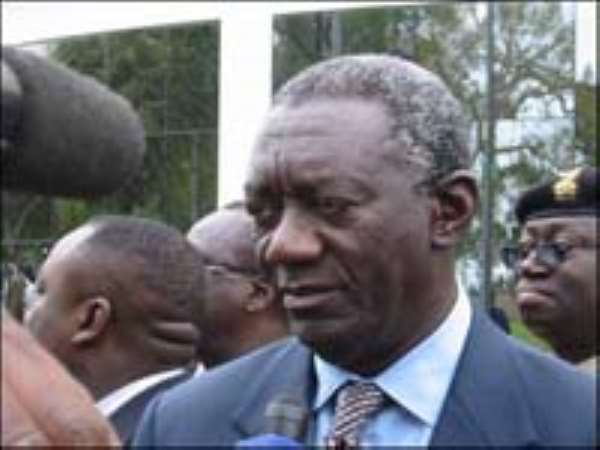 President J.A. Kufuor has asked Chiefs to use their tremendous influence in society to discourage politicians from the use of abusive and foul language, which he said, were unhelpful to national development.
He said Ghana was now being restored to its past glory and that it was important for all to appreciate the need to unite and rally to the national cause and explained that politics should be a means for serving the nation and must not be used to divide the people and undermine the integrity of the State.
President Kufuor said this when Nana Bosoma Asor Nkrawiri, Omanhene of Sunyani, led a delegation of Chiefs of the Sunyani Traditional Council to pay a courtesy call on him at the Castle, Osu, on Friday.
In the company of the Brong-Ahafo Regional Minister, Mr Ignatius Baffour-Awuah, the chiefs visited the Castle to extend seasonal wishes to the President and to thank him for the Government's representation at the Silver Jubilee Celebration of the Omanhene's installation.
Responding to a request by the Chiefs for the completion of the Sunyani Ring Road Project, President Kufuor said everything would be done to ensure that the remaining works were done to bring uniform development to the Municipality.
He noted that a solid infrastructure base was a decisive factor for attracting investments and the promotion of businesses to grow the economy and create job openings.
He explained that it was on the basis of this that the Government was pursuing infrastructure development as one of the key priorities of its development agenda.
He gave the assurance that that there would be equity in the distribution of development projects, saying, no part of the country would be denied of its fair share of development.
Nana Nkrawiri said they were grateful to President Kufuor for the significant amount of progress which has taken place in the Municipality within the past few years.
He also expressed their satisfaction with the performance of the Regional Minister.
The Omanhene, however, appealed to the Government to give serious attention to the construction of the Sampa-Drobo and the Ahafo-Bechem roads, which according to him; were not in good condition.