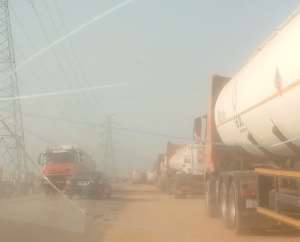 Some Fuel Tanker Drivers at Kpone have illegally taken over the shoulders of the Kpone-Tema Road and parked indiscriminately causing a nuisance to other commuters and the residents.
Mr. Samuel Amu, a Trotro Driver told newsmen in an interview that the behaviour of the Tanker Drivers with highly inflammable substances in their Tanks has become a nightmare to the residents and most people who use that stretch of the road.
Mr. Amu explained that the road serves as the major link between Kpone and Tema and its environs, therefore, the parking of heavy-duty vehicles along the shoulders virtually converts the road into a single narrow path.
"Sometimes, we spend an hour and a half to get to our various destinations instead of the 20 minutes that it is supposed to be, because of this issue, we the commercial drivers sometimes make loses because they have created traffic congestion," he added.
Madam Patience Heymann, a commuter noted that they are sometimes gripped with fear; "we sometimes use the Kpone-Barrier road, a longer yet safer road to get to Tema because we are afraid of the risk of using the Kpone-Tema road.
"We appeal to the government or the Assemblies to come to our aid and find a parking space for fuel tankers and stop them from parking along the shoulders of the road," she added.
Mr. George Tetteh, a commercial driver at Kpone said that the bad nature of the road and the attitude of the Tanker drivers has worsened the plight of other road users.
"The Kpone-Tema road itself is bad - full of potholes and dust which sometimes affects visibility, now the Tanker Drivers have narrowed it, making it quite uncomfortable for others to use. What happens if a driver mistakenly runs into a Tanker?
He again added that, because some part of the road is under construction, they sometimes get involved in accidents with these tankers and resulting in severe or mild injuries.
Mr. Tetteh said the community is sitting on another disaster which could be triggered anytime, "we should not wait for an explosion before running to solve the problem, we are, therefore, calling on the Kpone-Katamanso Municipal Assembly to act fast".
He also appealed to the Kpone-Katamanso Municipal Chief Executive and the Tema Metropolitan Chief Executive to work together in finding a solution to the indiscriminating parking of Tanker Drivers along most of the roads in Tema and Kpone.
-CDA Consult II Contributor