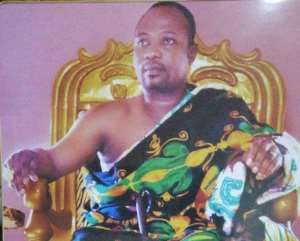 Obrempong Nyanful Krampah XI
The Omanhene of the Gomoa Ajumako Traditional Area, Obrempong Nyanful Krampah XI has welcomed the elevation of the Member of Parliament for Ajumako-Enyan-Essiam, Hon. Dr. Cassiel Ato Forson as Minority Leader in Ghana's Parliament House.
According to him, the Chiefs and people of the Central Region are extremely happy that a son of the land has been appointed to such an enviable position in Ghana's Parliament House.
He added that Dr. Ato Forson's appointment has raised the image of the region.
"It is a welcoming news to those of us in the Central Region and we accept it wholeheartedly. The Central Region has long been hoping for such high level position in the Parliament.
"While congratulating Hon. Dr. Cassiel Ato Forson, I will like to make a passionate appeal to the NDC leadership to ensure that peace prevails among the ranks and file of the party, especially within the Minority Caucus in Parliament.
"I once again congratulate the newly appointed Minority Leader and pledged the unflinching support of Nananom in the Central Region for his new office to enable him discharge his assigned duties as enshrined in the Constitution Of of the Republic of Ghana," Obrempong Nyanful Krampah XI noted.
The Gomoa Ajumako Omanhene said this in an interview with newsmen at Gomoa Ajumako in the Gomoa West District of the Central Region last Friday.
He noted that even though Nananom play non-partisan roles, it behoves on them to encourage politicians to work hand in hand with the custodians of the land to improve the quality of lives of the people in their traditional areas.
The Gomoa Ajumako Omanhene therefore called on Ghanaians to recognise Nananom as development partners and not enemies to any government or political party either in government or in opposition.
"As I always say, traditional rulers, being custodians of the land in the country will continue to support any move that would create more job opportunities for our people to be self-sufficient.
"That explains why we always encourage our people to aspire to higher positions to spearhead infrastructure development in our communities.
"Our doors are opened for Government and political parties to assist in reduction of unemployment associated with economic related hardships," he stressed.
Obrempong Nyanful Krampah XI emphasised that the Gomoa Ajumako Traditional Area has put in place achievable measures to enforce its bye-laws on education, health and sanitation, expensive funeral, widowhood rites and other anti-cultural practices that are alien to Ghanaian culture and traditions.