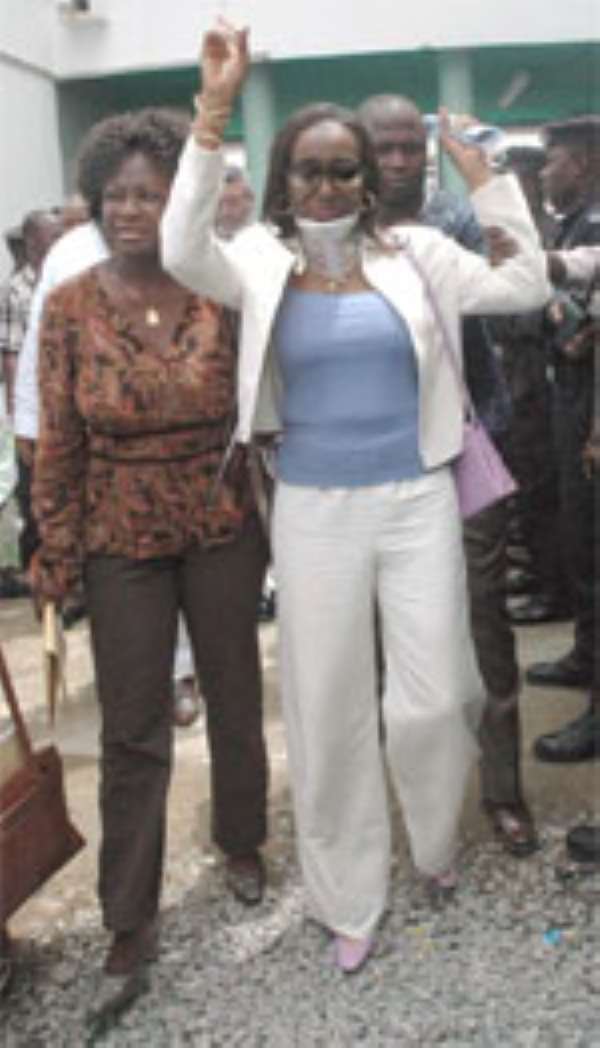 By Fidelia Achama Former First Lady and president of the 31st December Women's Movement (DWM), Mrs Konadu Agyeman Rawlings, returns to court today to face criminal charges on the divestiture of GIHOC Nsawam Cannery to DWM.
Nana Konadu is standing trial at an Accra Fast-Track High Court with four others for causing financial loss to the state.
The other defendants in the case are Emmanuel Agbodo, former Executive Secretary of the Divesture Implementation Committee (DIC), Kwame Peprah, former Finance Minister and Chairman of DIC, Sherry Ayittey, Treasurer of 31st December Women's Movement, who doubles as Director of Caridem, and Thomas Benson Owusu.
The accused persons are facing 30 charges, which include causing financial loss in the divestiture of GIHOC Nsawam Cannery to Caridem Development Company, of which Nana Konadu is President and Chairman of the Board of Directors.
They have pleaded not guilty to all the charges and are on self-cognisance bail. Just as the trial was about to begin, Tony Lithur, Counsel for Konadu, filed an application for a stay of proceedings at the court presided over by Justice Baffoe-Bonnie, until a civil suit by Caridem against the DIC and the Attorney-General was determined.
Tony Lithur, in his motion, accused the Attorney- General of acting in bad faith and abusing the powers granted him by the constitution in instituting the criminal case against his client, when the civil case involving the A-G and his client was on-going.
He therefore prayed the court to stay proceedings and order the A-G to go and finish the civil suit before continuing with the criminal action against Nana Konadu.
However, on July 13, 2006, the application was dismissed by the trial Judge, on the grounds that it was premature and an abuse of court process.
On the last hearing date before the legal year ended in July, Tony Lithur prayed the court to stay proceedings because the former first lady intended to appeal against the ruling of the trial Judge.
Justice Baffoe-Bonnie however said the trial could continue because an intention to appeal was different from an appeal, and adjourned the case only after the State Attorney, Anthony Gyambiby, agreed that the case be adjourned to enable Konadu file the appeal. Nana Konadu had sued Daily Guide and two others for defamation, claiming ¢3 billion damages.
She had claimed that a publication in the paper suggesting that she owed the state ¢2.8 billion was libelous since it was Caridem that owed the state.
The court nevertheless threw out her case, saying the publication was of public interest.