December 6, 2006
|
Football News
Ahmed Toure Deserts Kotoko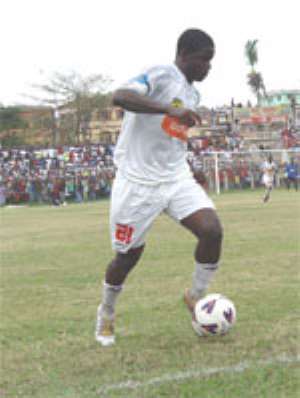 Kumasi Asante Kotoko's young promising striker, Ahmed Toure, who has scored some important goals for the club, has unceremoniously deserted the Porcupine Warriors to play for Cote d'Ivoire, his home country.
Officials of the club have expressed worry over the sudden departure of the young striker and have written to the Ghana Football Association (GFA) to investigate the circumstances surrounding his departure.
The 19-year-old striker suddenly left to play for his country's Under-23 team, which would be playing the Black Meteors of Ghana in the last week of this month.
The two teams have been drawn in Zone III alongside Nigeria for qualification to participate in the All- African Games scheduled for Algeria next year.
His refusal to notify the club's officials of his departure has left room for all kinds of speculations.