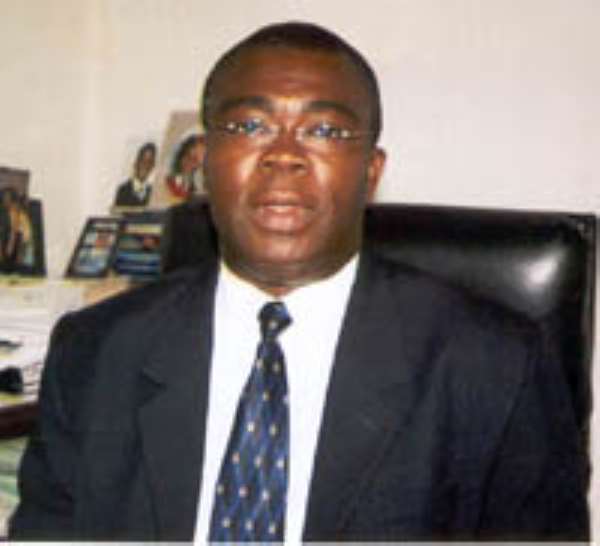 A thirty six-year-old deaf and dumb, Mr Kojo Okanto is the Mfantseman District Best Farmer for 2006.
Mr. Okanto, from Ekumfi Nanaben and a product of Cape Coast School for the Deaf received a bicycle, suitcase, three bars of key soap, cakes of Geisha soap, three cutlasses and a radio cassette recorder, as his prize at the Mfantseman Farmers Day Celebration at Ekumfi Essuehyia on Friday.
Mr Okanto, who has 20 hectares of pineapple farm, 10 hectares of maize farm, one and a half hectares of garden eggs, one hectare each of cassava, plantain, tomatoes, 12 sheep and six goats, employed three labourers on salaries of 300,000 cedis a month.
Mr. Stephen Asamoah-Boateng, MP for Mfantseman West and Minister for Local Government, Rural Development and Environment in an address congratulated farmers and fishermen for working hard to feed the nation and to sustain the economy.
Mr Asamoah-Boateng attributed the peace the nation was enjoying to the work of farmers and fishermen, as "peace cannot be sustained when the people are hungry."
He noted that the government, being mindful of that, was doing everything possible to ensure food security.
The Minister advised farmers and fishermen to add value to their products to make them marketable.
He assured pineapple producers in the area to assist them to acquire blenders for producing pineapple juice for hotels, and other consumers.
Mr George Kuntu Blankson, MP for Mfantseman East said two pineapple farmers from the area, adjudged national and Central Regional best pineapple farmers are in Nkawie in Ashanti and Dunkwa-on-Offin to receive their awards.
He urged farmers and fishermen to let the awards encourage them to work harder.
Mr Robert Quainoo-Arthur, District Chief Executive (DCE) stated that the Assembly in collaboration with the Community Based Rural Development Programme has voted 1.6 billion cedis as micro-credit to be disbursed to some individual farmers and fishermen and groups before the end of this year.
The DCE said the Assembly, in collaboration with the Ministry of Food and Agriculture under the Canadian International Development Agency assistance and farmer based organisations grant has provided two cassava processing machines to farmer groups at Taabosom and Krofu, two oil palm processing machines to farmer groups at Akobima and Odumano and 15 cages and 60 grasscutter breeding stock to two farmer groups at Baifikrom and Ekotsi.
Mrs Felicia Ansah-Amprofi, District Director of Agriculture, in a welcoming address said, apart from the ongoing Youth Employment Programme, the government once again, through the Ministry was going to support the youth to go into agricultural production next year.
The Director appealed to chief and family heads to release lands for the youth when the programme took off.
In all 31 farmers, fishermen, fish processors and agro-processors were presented with awards.
The theme for the Day was: "Youth Employment Programme, an avenue for sustaining Agricultural Development.