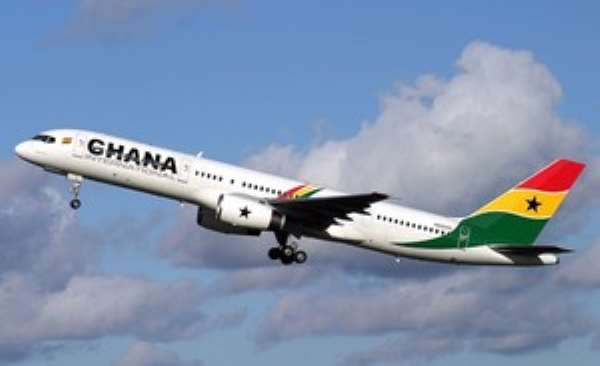 The defunct Ghana Airways Corporation owes its creditors 200 million dollars, Deputy Minister for Finance and Economic Planning, Dr Anthony Osei Akoto, told Parliament on Friday.
He said a down payment of 30 million dollars had been provided for in the 2007 budget to offset part of the debt.
Contributing to a debate on a 61-million dollar loan agreement before the House, Dr Akoto, who is Member of Parliament for Old Tafo, said the total assets of the liquidated corporation was valued at between seven and eight million dollars.
The loan is being contracted by the government with various local banks for the financing of various sectoral projects, including five million dollars to fund the liquidation of the corporation.
A report of the Finance Committee on commercial loans between the government and various local banks for the 61 million dollars indicated that part of the money would be used to pay for the severance awards of the former employees of the airline.
Members of the Minority Group in Parliament raised concerns about the loan agreement and demanded further information to enable them to make an informed decision.
Mr Alban Bagbin, Minority Leader, said the group needed enough information regarding the liquidated airline before they could approve the loan.
Some of the Minority members expressed concern about excessive borrowing by government from the local banks, saying that has the tendency to crowd out the private sector.
The Speaker, Mr Ebenezer Sekyi Hughes, consequently deferred the loan agreement to next week.