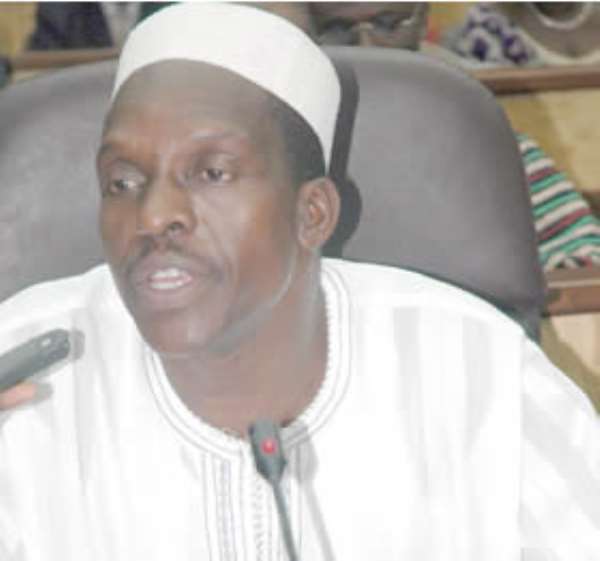 Mr. Alban Bagbin, Minority Leader in Parliament on Wednesday called for accountability in what goes into the organization of state burials for national heroes and statesmen. He said the nation must be clear in its mind, how much is spent in organizing state funerals.
"When state burials are declared for citizens, we expect that everything done to ensure the organization of a state burial is actually a state burial and not just a window dressing," he said.
Contributing to a tribute in memory of Torgbi Adja-Tekpor, Fiaga of Avetime Traditional Area, the Minority Leader noted that it was becoming a mirage for certain families who though are listed to have state burials, end up with nothing as such since they (bereaved families) end up taking the bills themselves.
He argued that it was important to know how much the state puts into these burials and prayed the House that " he (Torgbi Adja-Tekpor) will better be honoured if we all actively participate in the funeral and prayed that he rests in the bosom of the Lord."
The tribute read by Mr Francis Aggrey Agbotse, NDC-Ho West eulogized the late Chief of Avetime as an outstanding geographer and educationist, nationalist, peace broker and founding member of the National House of Chiefs.
Born Samuel Kwami Adorbor on September 4, 1927, he was installed as chief of Avetime Traditional Area on August 25, 1958 and ruled for 46 years in peace and order.
He studied art at the then University of Science and Technology, Kumasi from 1954-1956, University of Ghana, Legon in 1960 where he obtained a Honours degree in geography and a post graduate diploma in education at the same university in 1962.
The late chief became the first headmaster of the Kpedze Secondary schools in 1962 after having taught in several schools in the Volta Region.
As a chief, he was elected President of the Volta Regional House of Chiefs from 1974 to 1991 and also elected in 1989 as President of the National House of Chiefs, a position he held until 1992. Mr Agbotse said: "this is the man lost to his traditional area, the Hokpe Traditional Council of which he was life President, Volta Regional House of Chiefs, National House of Chiefs and the Republic of Ghana as a whole.
"Mr Speaker, no doubt his Excellency President J.A. Kufuor has recognized his contribution in the service of Ghana and has directed that he be given state burial."
Mr G.K.B Gbdiame, NDC Nkwanta South noted that Torgbi Adja-Tekpor in his lifetime made a mark, "not with how long he lived, but, with the things he achieved and for which he would be remembered." Ms Akua Sena Dansua, NDC-North-Dayi, called on the state to honour its heroes while they were alive instead of waiting till their deaths before they are honoured.
She made reference to Nigeria and other neighbouring countries that have monuments, and streets named after their previous leaders, living national heroes and statesmen.
She urged young chiefs in the area to emulate the high standards of peace and nationalism exhibited by the late chief, saying, "he never fomented trouble."
Mr Felix Owusu Adjapong, Majority Leader and Minister of Parliamentary Affairs said, "his (Torgbi Adja-Tekpor) contribution towards the development of this country is recognized by all and hoped those of us living would learn from his achievements."