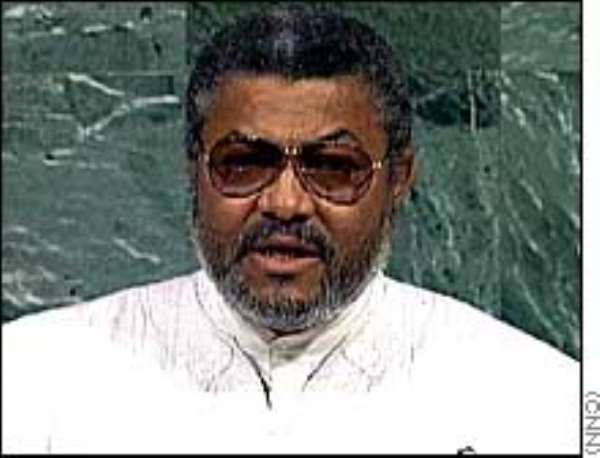 Kufuor's coup claim is true…
Rawlings is a liar…
Why did he go to Cuba?
The Council of State has in defence of President John Kufuor's coup allegations against former president Jerry Rawlings stated that Rawlings' visit to Cuba recently is enough evidence that he is planning to overthrow the government.
Council member Nana Asonaba Dapaah told Accra based Radio Gold that it is their view that the history of President Rawlings provides a great lesson for any sensible person to make deductions from his actions.
"When he was preparing to overthrow the Limann government, he went to Cuba for support. And when he returned, he successfully removed the government. He has gone to Cuba again this time, and any sensible person can see what his motives will be" he analysed.
President Kufuor last week stunned many when he announced at a rally at Offinso in the Ashanti region that he has intelligence reports to confirm that Jerry Rawlings has visited an oil-rich country to solicit for funds to overthrow his government.
The former has denied the claim and challenged the president to provide proof. But the Council of State which per Article 89 (1) counsels the president in the performance of his functions says the denials are not full proof.
"Denials are not truths; and so his denial does not mean he is not planning a coup."
Nana Asonaba Dapaah told Radio Gold's James Agyenim Boateng that "his (Rawlings) utterances and charges against the current government means that he is trying to raise the tempers of the people to rise against the current government if he will not do it himself."
Touching on the specific issue of reconciling the two Johns, the council of state member said they have not tried to bring the two together because the former president has not made any approach to them.
The Council has therefore come to a conclusion that President Rawlings who is a former head of state is the problem and not current head of state President Kufuor. According to Nana Dapaah, Rawlings must be blamed for the bad-blood between him and the president.
The Council's position was stated by the member as follows: "Rawlings has dealt with the council before so we don't know why he has failed to avail himself to the current council. When we approached the current president he told us that if we are able to secure appointment with him, he will be ready for the issues to be resolved. But the former president has not approached us. He has not availed himself for the problems to be resolved."