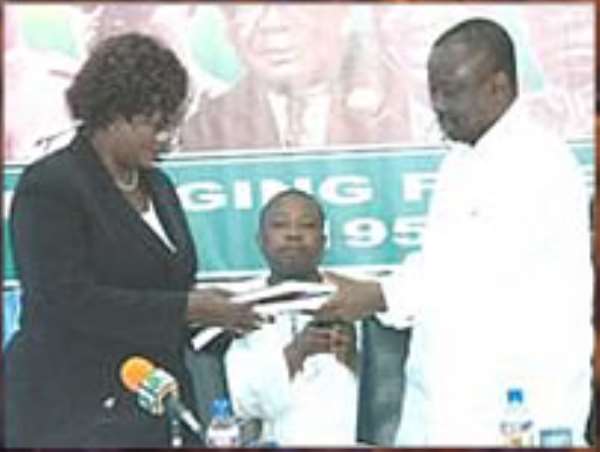 After chairing the controversial cocaine committee for more than one months without finding the 77 parcels of the missing cocaine, Justice Georgina Wood, is running from the 'ghost' of the ministerial committee, which has followed her to the Supreme Court where she sits as a judge.
On Wednesday, October 18, before the delivery of a judgment on the case of two British nationals whose appeal for fair trial is before the Supreme Court, the Lordship, Justice Georgina Wood, was compelled to step-down from the Supreme Court panel because of the role she played in the Wood Committee.
The two British nationals were sentenced to 20 years imprisonment, with hard labour on October 27, 2004, along with four others, on separate counts on criminal conspiracy to import cocaine valued US$145million into Ghana and possession of that drug without lawful authority.
After waiting patiently for two hours on that fateful Wednesday, the attorney of the accused-appellants, Frank David Laverick and John David Logan was called into the chambers and was told that the panel of justices had met and taken a decision that Mrs Georgina Wood should step-down.
The reason being that Justice Wood might have interviewed the two British nationals at the Nsawam Medium Prisons, when she and the committee members, visited the prisons, and so could compromise her position as one of the sitting judges on the appeal filed by the counsel of the convicted British nationals.
Her inclusion in the panel, therefore, could lead to the questioning of the judgment. The ruling on their part, has therefore been adjourned sine die to enable the Chief Justice to reconstitute the panel. Mrs Wood was part of the originally constituted panel which comprised five justices of the Supreme Court, including Justice Steve Brobey and three others.
Meanwhile, The Enquirer can confirm without any difficulty that, the trial of the two British nationals has caught worldwide attention.