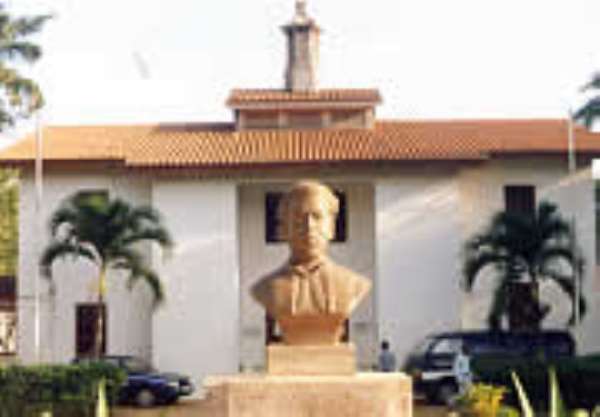 …1000 Legon Students Attend Hospital Every Month
If care is not taken by the authorities at the University of Ghana, very soon the Ghana army would have to be called in to test their shooting skills as they did when bats almost took control of the 37 Military Hospital.
With the rate at which vultures are taking control of parts of Mensah Sarbah Hall it will be a matter of time for Legon to be turned into a shooting range for the Ghana Army, as the military would be needed to shoot off the army of vultures who are gradually massing up if not at a geometrical progression, at an arithmetic progression around an incinerator (refuse dump).
The refuse dump into which refuse carted from various places on campus like the annexes of Legon and Akuafo halls and the Central Cafeteria is brought has become a seriously health hazard militating against the health and well-being of students of the Mensah Sarbah Hall.
In a petition fired to the Accra Metropolitan Assembly by some concerned students copied to the Vice-Chancellor the Dean of Students all of the University of Ghana as well as the Hall Master and the Senior Tutor of the Mensah Sarbah Hall, the students protested vehemently against the closeness of the incinerator to the kitchen and the female blocks of the Hall and called for measures to remedy the situation.
"Apart from the stench it produces, its closeness to the kitchen and female blocks is a serious concern as an outbreak of a hygiene related epidemic is imminent…not be wasted explaining the consequences of such an outbreak in a facility housing over 5000 students, already with poor sanitary conditions. Apart from all these, the dump has turned the hall into an eyesore and a virtual abode for countless numbers of vultures which spread bacteria and faecal droppings on unsuspecting students."
Most seriously is the fact that the rodents from the incinerator site easily move to the rooms of female students of the hall as well as the hall's kitchen, which serves over thousand customers per day, contaminating foodstuffs and drinking water, according to the female students who spoke the point on condition of anonymity.
In an unprecedented development the University is said to be recording about 1000 student attendance at both the University Hospital as well as the Clinic located on the university campus.