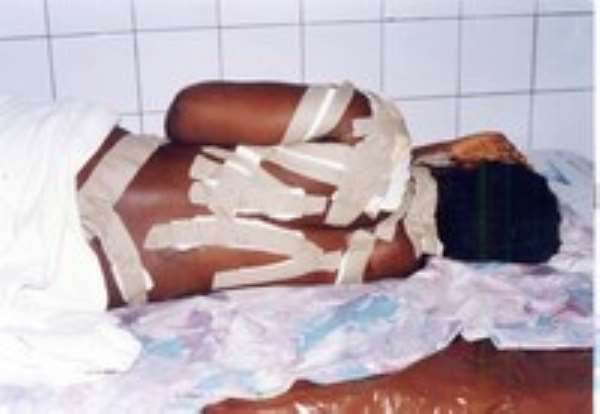 Not satisfied with his girlfriend's explanation why she failed to return from a family meeting the same day, a 27-year-old tailor stabbed the lady 24 times with a cutlass and knife. The tailor, Agbeko Emmanuel Mensah, after committing the crime went into hiding and is being sought for by the Dodze Police.
A family source who pleaded anonymity for fear of being attacked told The Spectator that Diana Dogbeda Kemeh, a 21-year-old apprentice seamstress, had been in a relation with Agbeko for over a year.
On Friday, September 8, Dogbeda, who has a three-year-old daughter, informed Agbeko that she was travelling to Togo to visit her brother and would return the same day.
When she arrived in Togo, the brother she was visiting had travelled with his boss and had to wait for him till he returned.
The source said, Dogbeda could not inform her boyfriend of the situation, but immediately she returned the following day, she went to the boyfriend's house to announce her arrival and apologise to him for not being able to return the previous day as she promised.
The explanation, the source said, rather infuriated Agbeko who did not utter a word but went out with the victim following him and pleading for forgiveness.
A few minutes later around 2 p.m, Agbeko returned from wherever he went and invited Dogbeda into the room and beat her up mercilessly.
Not satisfied, he allegedly picked a cutlass he had hidden in the room and inflicted many wounds on various parts of her body and left her unconscious.
Agbeko, the source said, thinking that Dogbeda was dead abandoned her and went out.
When he returned around 10 p.m., he noticed that Dogbeda was breathing and picked a knife to finish her off, but Dogbeda cried out saying "What have I done that you want to kill me? Are you not satisfied with what you have done?" Go ahead and finish me."
Immediately, she said that Agbeko threw the knife away, shut the door and left.
He returned after about thirty minutes with an "Okada" (a popular motorbike used as taxi) to convey Dogbeda to the St. Anthony's Hospital at Dzodze.
Agbeko pleaded with the bike rider to send her to the hospital and come back for him to tell the doctor what actually happened.
When the motorbike took off with the victim, Agbeko sneaked out and had not been seen since.
The source said the family counted 24 stabs on various parts of Dogbeda's body at the hospital.
A report was made to the Dzodze Police who is looking for the assailant. The Dodze Police has confirmed the story to The Spectator and said they were investigating the case.