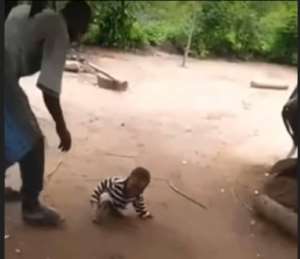 The Police have debunked reports that an adult male caught in a viral video abusing an infant has been arrested.
According to the Police "no confirmed arrest has yet been made in connection with the case."
The Police noted that its intelligence teams and experts from the Police Cyber Crime Unit are working around the clock to resolve the case.
They said they are following a number of leads as part of the ongoing investigation to track down the individual involved.
"We are also counting on the public for further information that could help the search and rescue of the child and the arrest of the perpetrator. We, therefore, urge anyone with credible information on the development to contact the Police on 024380999," the law enforcement agency said in a statement.
The Police has set aside a reward of GH₵2,000.00 for anyone who is able to provide credible information that could lead to the arrest of the individual and rescue of the child.
Child Right International has also set aside a GHS10,000 reward.
Source: Classfmonline.com