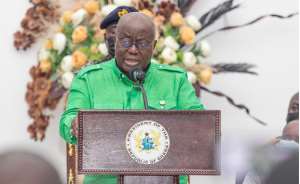 President Akufo-Addo
President Akufo-Addo's year of roads mantra is turning out not to mere hot air. Various road projects are being executed across the country and verifiably so.
While some are on the verge of completion, others are being worked upon steadily and the timing not in doubt.
For us, however, the most exciting of them is the Eastern Corridor Road which has remained an albatross around the neck of successive governments since independence.
They have made varying promises of completing it only for such governments since independence to abandon it even before dumping the first trip of gravel.
For motorists, who because of the shortness of this stretch to the North, use it, they endure the most traumatising experiences of traveling on a bad road. Just why in spite of the advantages the stretch offers, one being the shortness, it has not attracted the favours of governments, something we are unable to decipher.
Now the jinx has been swept away and we are witnessing the steady progress of the work on the shortest route to the Northern parts of the country from the South.
We have learnt that when the project is completed, a trip from Tema, where the Eastern Corridor Road commences, to Yendi, could take a little under eight hours.
It is strategic for every country to have alternative roads. There are only two routes to the North; the Kumasi through Kintampo road and the Yeji route although the latter is not a preferred choice of travelers anyway, and hardly used by persons heading for the North.
Having an alternative route such as a first class Eastern Corridor road would boost trade along the road which runs through the Volta, Oti and then the Northern Region.
The 695-kilometre stretch from Tema to Kulungugu in the Upper East Region would ease the challenges persons transporting foodstuff from farm gates to the South especially, Accra and elsewhere. One of the causes of high food prices is the challenges of transportation of these to the buying points.
The bumper harvest of some foodstuff such as yam and others this year, is not reflecting in their market prices, the reason being the high transportation cost.
Besides fuel prices, the quality of roads also impacts the prices of foodstuffs.
This time round, there are timelines allotted the various lots which constitute the project. This is the reason the President can now say comfortably that the road would be completed and handed over to government by the end of next year by the contractor. With the engineers and his personnel on site and working, the promise of a ready Eastern Corridor Road next year end should be accepted. When politicians walk the talk, we can only commend them.