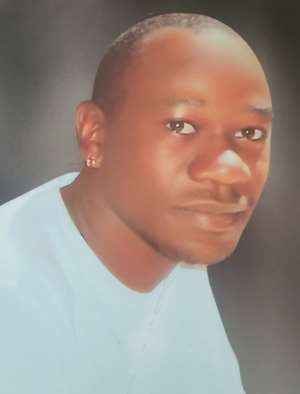 Whilst at 45-year-old, one would be starting to enjoy or dream of life fulfilment, my young brother, Peter Bulago's journey was ending.
He only achieved a few out of his many dreams.
He dreamt of being a father, which Peter achieved with two beautiful 12-year-old Tyson Wei Bulago and 7-year-old Aleah Lin Bulago, plus a surviving wife Peggy.
Everybody, that had ever come across this beautiful soul, all cherished him.
Peter has been not only my younger brother, but a regular man that daunted me with laughter.
Peter's unpredictable journey left a huge vacuum both in our family and in his workplace.
Available evidence suggests that there wasn't a single Monday after Formula 1 when Peter's boss did not get worried about Peter's banter.
Peter's boss, Jalle Jungnell, who also doubles as the founder of Panthera AB company which deals in the manufacturing of wheelchairs.
Every Monday, particularly when Lewis Hamilton had had a pole position, Mr Jungnell, would get worried, not to get hurt, but to take on Peter in a battle of banter.
In his speech Mr Jungnell after a short pause when breakdown, the boss said: the fight wouldn't stop at the banter, but it also used stretch to laughters.
According to Peter's boss Jalle, as usually creates jokes, whilst at the motor race, Peter went straight to the Swedish Royal, the apparent Heir Princess Victoria and requested for a selfie, but in English instead of Swedish.
When Peter was asked, why he made the request in English language and not in Swedish?
Without hesitation, Peter replied: " I deliberately used English because, I wanted the Princess to be famous and International."
It wouldn't be surprising, if we had an entertainer in our family. But Peter's dreams were to make everyone smile, which attribute that can be attested by his co-workers, family in Sweden and back home in Uganda!
He recently, used his salary to offer the wheel chairs through Uganda Lottery.
"He [Peter] was always there for us coworkers and our customers and our clients out there. No talking. Peter fixes it. The emptyness and loss of our buddy, is a unity monument.
Our thoughts to the kids and Peggy, the children and the rest of the family." The management of Panthera AB, said of Peter.
Whilst eulogising Peter, the former Deputy Buganda Prime Minister, Haj Semambo M Sekimpi, who led the delegation from Uganda, said: "Peter had all attributes of making everyone comfortable."
"Remembering Peter, we most recognise his thoughtfulness and willingness to offer support, physically, spiritually and financially," said Haj Semambo.
Don't judge each day by the harvest you reap. It's only natural to feel emotional when celebrating the life of Peter.
Peter's words to everyone have been the nurturing of peace and contributing with the help to the needy.
Mr Jungnell, who worked with late for 24 years, in his own words, he suggests Peter wasn't just an employee; "though our friends and dear workmate Peter has quickly and suddenly left us heartbroken, he remains a historical importance to our company.
Rest In Peace Peter.