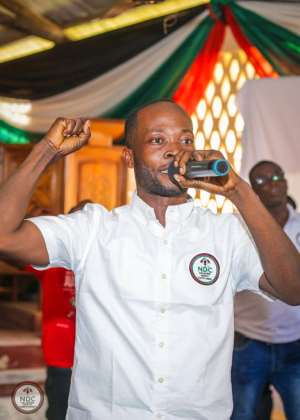 Commrade Ahmed Agbenyadzi, Akuapem North NDC Deputy Youth Organiser
The nomination of the Member of Parliament for Walewale Hon. Lariba Zuweira Abudu as Minister-designate for Gender, Children and Social Protection has been criticised by the opposition National Democratic Congress, (NDC).
The NDC noted that the nominee has nothing better to offer the Ghanaians despite being the deputy minister to the dismissed Sarah Adwoa Sarfo.
President Akufo-Addo appointed Hon. Lariba Zuweira Abudu who was the deputy minister as the substantive minister after dismissing the Dome-Kwabenya lawmaker in a letter signed by the Director of Communication at the Presidency, Eugene Arhin.
Akuapem North NDC Deputy Youth Organiser, Ahmed Agbenyadzi in an interview with this reporter said the minister-designate has not proven to be capable of holding such a ministerial portfolio.
According to him, Hon. Zuweira Abudu has been seen performing when the former minister was away and wondered why President Akufo-Addo has suddenly nominated her for such a top position.
"I am surprised to hear the President mentioning the deputy minister to take up the position of her former boss. Where was she when Adwoa Sarfo was away? We did not even hear anything about her and that is unfortunate," he stressed.
Ahmed Agbenyadzi added, "Why was she not made to act in the absence of the former minister if she is capable of being the substantive minister? Why must it take another sector minister to be Caretaker of the Gender ministry when there was a deputy minister?"
The NDC Communicator was, however, not hopeful the minister designate can resolve the many challenges the ministry is facing.