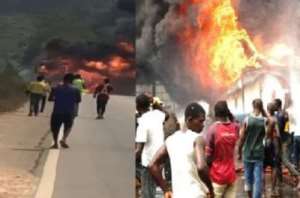 Open Letter To:
Presidency.
MoH.
NADMO.
Land And Resource Ministry.
Mineral Commission.
Mental Health Authority.
Tragedies are part of humanity,but when the extent to which such incidences happened supersede the Mental adaptation of the victims, it is best proper Mental Health care and services provided to desensitize the victims from Post Traumatic Stress Disorders (PTSD)
Just a few days ago, there was shock and mourning across the country due to the unfortunate, but preventable disaster of explosions that happened when proper transporting protocols were not followed in transporting those mining explosives.
Per the available records or evidence, tens of people died and many were severely injured and still receiving treatment at the various hospitals.
The Ghana Police Service and NADMO reports stated that the APIATE BOGOSO Community in the Western Regional part of Ghana had been destroyed beyond human habitations.
Per the aforementioned reports, it will be wise and timely for MENTAL HEALTH Authority to be empowered financially and logistically to mobilise personnel to help provide psychological counselling and treatment to the affected but surviving victims and surrounding communities who will be living in the state of fear and anxiety.
The extent of the DISASTER will surely leave long term MENTAL EFFECTS on the victims since lives and properties were permanently lost, those who will be affected anatomically can't fend for themselves either like they used to do and that will be the beginning of their state of living the Traumatic event.
In order to minimise the effect of the traumatic experience, it is best Mental Health care and treatment is given early enough, and this can't happen without the empowerment of the Mental Health Authority.
I believe this letter will receive prompt response for better actions.
Thanks
Bismark Kwabla Kpobi.
Senior Registered MENTAL Nurse.
MENTAL HEALTH Advocate.
Concerned Citizen.