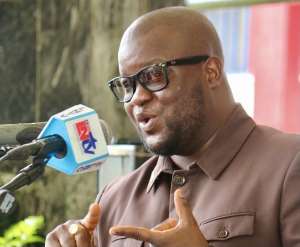 Dr. Samora P. Z. Wolokolie, Liberia's Deputy Finance Minister for Fiscal Affairs
Liberia's Deputy Finance Minister for Fiscal Affairs, Dr. Samora P. Z. Wolokolie is urging Africa governments and institutions to take deliberate decisions that would encourage diaspora investment across the continent -a catalyst for sustainable economic growth in emerging markets.
The summit was part of events marking the 11th Edition of the African Achievers Awards 2021 in partnership with Homerton College, Cambridge. It was held under the topic: Initiating African Diaspora Investments for Diversified Economies on December 9, 2021 in London. The summit was hosted by Lord Simon Woolley, Master of Homerton College, Cambridge University.
Dr. Wolokolie told a cross section of global leaders at a summit in Cambridge, the United Kingdom that African diaspora has traditionally been recognized as a source of significant inflows of resources to countries of origin through remittances but the attending potentials remain largely untapped due to the lack of policy frameworks that would encourage investment decisions.
He stated that Governments should take deliberate policy actions mainly to incentivize diaspora Africans to invest in their home countries. For example, tax rates must not be prohibitive; the business climate in African countries must be welcoming and unrestrictive.
"There is a huge opportunity for governments and financial institutions and private sectors to harness and scale up these diaspora investments for sustainable development in areas of emerging markets by developing and deploying policies framework that would encourage target diaspora investment," Dr. Wolokolie indicated.
According to him, diaspora interventions come with a specific spine of bringing innovations for significant outcomes.
He stressed that focusing on diaspora investors could yield significant results.
The Liberian Fiscal Affairs Minister disclosed that remittances from diaspora Africans are among the highest resources for foreign exchange in recipient countries. Hence, he admonished that as multinational firms become more reserved and cautious in making investment decisions in many African countries, diaspora investment in their home countries will go a long way in giving boost to economies in Africa. "Diaspora bonds are attractive source of investment," he added.
Across many African countries, he noted that diaspora investment remains largely untapped and underutilized.
"There is a need for African governments and institutions tap into the opportunity that diaspora provides."
Dr. Wolokolie believes that "by doing so, African governments will start to review decisions in taking high interest loans" that generations bear the blunt to repay.
"Until recently, African countries have made little progress in attracting these investment opportunities. This is an area of huge potential. Factors that could hamper or discourage diaspora investment in Africa: high on the list is the absence of security. No investor or serious investors will gamble his savings and invest in an environment that is potentially unstable," the Liberian Fiscal Affairs Minister pointed out.
He emphasized that rule of law is the key to investment decisions making. Another key issue is the availability of basic social services including reliable sources of power (electricity), functional infrastructures and strong democratic tenets. A relatively stable environment is an attractive charm for investment decision making. African governments must therefore put in place policies to attract diaspora investment.
Dr. Samora P.Z. Wolokolie is a distinguished recipient of the 11th Edition of Kensington Palace, State House, London, 2021 African Achievers Awards Colloquium.
The African Achievers Awards is one of Africa's most prestigious awarding bodies, which has been rated by Forbes Magazine as one of the most prestigious award Ceremonies at Cambridge University.