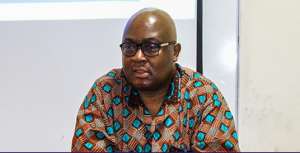 Editor of the Daily Dispatch Newspaper, Ben Ephson has noted that former President John Dramani Mahama is being reckless with his allegation of ballot stuffing in the 2020 general elections.
The former President during his Thank You tour in the Volta Region last week said but for the militarization and ballot stuffing of last year's election, he would have beaten President Akufo-Addo.
Speaking on Global FM in Ho, Mr. Mahama said the one million stuffed votes saw the EC manipulating the election in favour of the sitting President.
But Ben Ephson has insisted that the 2020 presidential candidate of the National Democratic Congress (NDC) is using a wrong approach.
According to the pollster, if Mahama has grievances, he must return to the Supreme Court to make his case.
"The EC is not perfect; I am saying that John Mahama is using the wrong route to force the EC, that is what I'm saying. If you are really focused, you said this and you petitioned this and the EC is not minding you. Go to where the EC will fear when the order is given or do you want to continue saying it is an attempt to say that the EC didn't do his job? No, you are being reckless," Ben Ephson shared in an interview with Starr FM.
The Dispatch Editor added, "If the EC is being irresponsible, go to the Supreme Court to make him responsible, that is my point."
Meanwhile, in a replay from the EC to ex-President Mahama, the electoral body has asked for evidence of his claim.
At a press conference in Accra on Monday, Dr. Eric Bossman Asare who is the EC Deputy Chairperson in charge of Corporate Affairs called on the Ghana Police Service to investigate Mahama for the allegation of ballot stuffing.