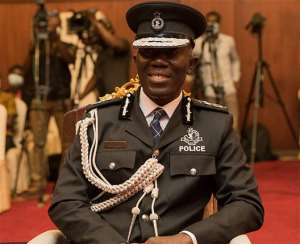 By Adom Desmond
For the first time in so many years, some people who have always been seen as untouchable, powerful and invisible have been rusticated from their schools of power and invisibility.
I make this statement at the back of the recent developments in the country which has painted a picture of the police trying to redeem themselves by going the extra mile to ensure that justice is served, and the laws upheld. I believe in this act of redemption, but I do not believe in some of the ways and methods being used, here is why:
The Inspector General of Police, George Akuffo Dampare although wants to fight crime has got it wrong somewhere and that is him trying to bend the laws to favour him because of the power he has, his acts goes to affirm the talks of a man who wants to show the world "where the power lies."
The arrest of Charles Nii Armah Mensah jnr popularly known as Shatta Wale was an act worth commendable, such acts when continued will go a long way to promote Ghana's development and take away impunity. We all know that Shatta Wale could have been given bail until his next trial, but the police did not like it that way and they had to go on the tangent of requesting that Shatta Wale, his accomplices and the Bishop be remanded in their custody for further investigations. Human rights are a fundamental rights which every Ghanaian is deemed lawfully fit to enjoy, Shatta Wale although committed a crime of which he pleaded not guilty is not an ordinary Ghanaian but of high profile, he will not resort to escaping when he himself knows that may destroy his life and career forever, even ordinary people who are accused of murder other high crimes are being granted bail and do not escape, why should this case be different.
Moving on, if my brain will not lie to me, I read an article on myjoyonline.com which stated that over 49000 tweets have circulated on twitter with the hashtag "freeshattawale".
That is where I get it wrong with Ghanaians and it makes me wonder if Ghanaians are really ready for development, the laws of Ghana frown against publishing or promoting false information which brings fear into the hearts of people or the state. It is a deliberate attempt to commit crime and Shatta Wale's acts fits in this description very well as he attempted to cause fear and panic when he made that post through his accomplices on social media. I think its high time we start upholding justice and stop supporting nonsense in this country, we always complain that the laws do not work and when the laws are working too we are complaining again. We always do comparisons between ourselves and other countries saying those countries are developed because their laws work, once the laws are working and we are talking.
I think we must be grateful that the police force is working, for development is a process and it starts from somewhere, the moment we begin to support injustice, that is when our country's integrity and dignity starts to fall in the mud. Akuffo Dampare has started a hunt, and it is our responsibility to join him, so we can purge our country of crime.
My article holds nothing but just a humble plea on us all to analyse situations carefully before we take a stand, if we had done that in the past I do not think we would have been here today but in the Utopia we all want.