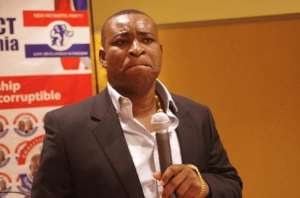 The people of the Ashanti Region will resist every attempt to let some people go unopposed in the upcoming regional elections of the New Patriotic Party, Adiza Zongo Pioneer has noted.
According to her, NPP members are angry at the party leadership in the region over the show of arrogance and neglect by the Regional Chairman, Bernard Antwi Boasiako, popularly known as Chairman Wontumi.
Their anger, she noted, even led them to snub the President, Nana Akufo-Addo by when he visited a pro-NPP radio station, Ash FM in Kumasi recently.
The vociferous NPP woman said the decision by Chairman Wontumi to push some persons to go unopposed in the last election did a lot of harm to the party which they nearly lost most of the seats to the NDC in the region.
"When you mention unopposed, then NPP people are falling sick because it really caused us havoc, it nearly sent us into opposition. So if you love the party and really want us to break the eight, would you even mention that name?
"This unopposed name has made a lot of our people angry and broken the love for our party, anyone who believes in himself and stewardship would not run away from the contest and would rather welcome it, our father Nana Akufo Addo never likes unopposed so he has always been contested and he believes the grassroots love and believes in him so he allows contests.
"…So they should stop disturbing our ears with that word, it even annoys us more. We will not let some people put the party in their pockets like their family property. They have made their wealth now, so Ghana should break, NPP should break apart, we will never allow it," she told Wofa Kofi Appiah on Kumasi based Boss FM Friday morning.
Her vituperation is in response to a viral video involving the region's First Vice Chairman, Kwabena Nsenkyire who was allegedly heard plotting for some persons to go unopposed including the Vice President.
"The people are mentioning two names; Chairman Odeneho Kwaku Appiah and Dr. Bawumia. And these two men believe in contest, and looking at what they've done so far for the grassroots they will surely win," she pointed.
She alleged that the grassroots of the party have been lamenting the neglect by the party, indicating that, "we don't have anyone to speak on our behalf, if you go to the party office, you won't see anyone there, when you meet them too they will give you GH20, but we are not children."
Comparing the loudmouth Chairman Wontumi to the Ashanti Regional NDC chairman, Mr. Nana Kwasi, Adiza noted that "no one ever hears of Chairman Nana Kwasi but he won additional seats in the region for his party, being regional chairman is not showing affluence on television and bragging."
Adiza warned persons eyeing various constituency chairmanship positions to distance themselves from Chairman Wontumi or risk losing their contests "since every indication shows that he is already a loser in the upcoming regional elections."