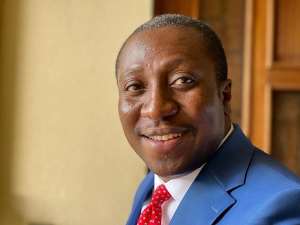 The Member of Member of Parliament (MP) for Effutu Constituency Lawyer Alexander Afenyo-Markin has rubbished allegations he is annexing lands at Gomoa in the Central Region.
It comes after the Omanhene of Gomoa Ajumako, Obrepong Yanfo Krapah XI issued a strong warning to the MP.
According to the Omanhene, Afenyo-Markin has been making attempts to annex some lands belonging to him in the name of embarking on projects.
In a warning to the Parliamentarian, Obrepong Yanfo Krapah XI told Coastal FM that, "If Afenyo-Markin thinks he can take Gomoa's land to Winneba, we won't allow that.
"We will fight with our blood. We won't allow him to do that. If he wants to bring tribal war, he should prepare for it, he will get it."
Holding a press conference to address the allegations, Alexander Afenyo-Markin says the claims are completely false.
He argues that the land in question is for the chief of Gomoa Pomadze Nana Apata Kofi V and not under the jurisdiction of the Omanhene of Gomoa Ajumako.
This, the Effutu lawmaker who has been touted everywhere as a development messiah in the constituency finds it strange how the Omanhene of Gomoa Ajumako would hold a press conference on lands that belongs to another chief i.e Gomoa Pomadze Nana Apata Kofi V.
"In his press conference, he said I am trying to annex Gomoa Pomadze lands. But on my left is the chief of Gomoa Pomadze Nana Apata Kofi V. He is the chief of Gomoa Pomadze. We have a working relationship. We are not fighting each other, we relate well and we understand that we need to develop the Gomoa Effutu enclave.
"So I find it again strange that the Chief will hold a press conference in the name of another chief who owns his lands and create the impression that there is a conflict between Effutu people and Gomoa Pomadze people," Afenyo-Markin noted.
On the accusation of putting up his own statue, the Effutu Constituency MP says it is also untrue.
He explains that as part of efforts to make the Gomoa roundabout beautiful, a statue of Kwame Nkrumah and JB Danquah was erected which the confused Chief could not differentiate.
"We discussed and said look can we create something. How do we do that? Okay, we can get the statue of JB Danquah and the statue of Kwame Nkrumah with the two of them shaking hands and tell the story around this. This is all that we have at the roundabout contrary to what is perhaps out there that it has my statue and that of the Omanhene, or it has something which symbolizes annexation of certain areas of Gomoa lands.
"So once again I think that the chief who owns the Pomadze lands, the recognized chief with his own palace at Pomadze and my good self-have been discussing this and I do not see how a total stranger could proceed to hold a press conference and specifically act as though he is speaking for the people and the chief of Gomoa Pomadze," Afenyo-Markin emphasised.