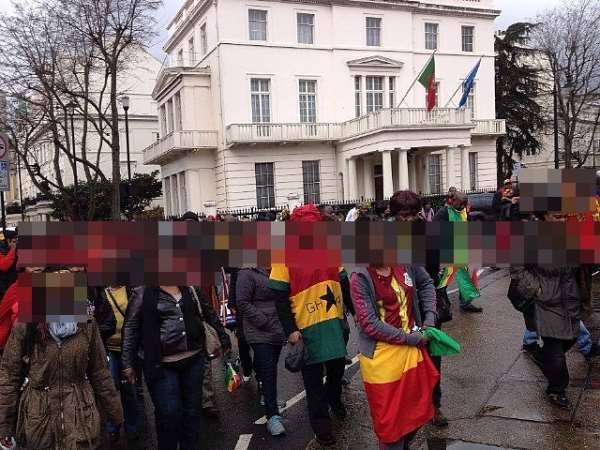 It saddens me to pose this question and attempt to answer it because it is divisive. However, it's not only necessary but important for the question to be debated and put to rest in order to bring unity amongst all Ghanaians, whether at home or abroad. I am sure many of you saw videos posted on social media by two Ghanaian women from the Diaspora complaining about the Kotoka International Airport (KIA) COVID19 testing arrangements as not being transparent and a ploy to make money from travellers. The two women did not only complain but also went political and used abusive language. There was outcry from some opinion leaders in Ghana who responded to the women. I read posts attributed to Ace Anan Ankomah, Gabby Otchere-Darko, Ben Brako and saw a video by Dr Bernard Okoe-Boye, former Deputy Health Minister and a member of the COVID19 Advisory Group. With the exception of Dr Okoe-Boye, I cannot confirm if the rest were actually by those named as the authors. It's those of Ace Ankomah and Dr Okoe-Boye that I intend to discuss in this article. I should point out that the woman from the US later withdrew her allegations and apologised.
Ten years ago, I posted an article with a similar title on Ghanaweb after listening to a programme on a London based Ghanaian radio station on whether Ghanaians in the UK were less friendly than those in mainland Europe (see, "Are Ghanaians in the UK Less Friendly than those in mainland Europe?", Ghanaweb, 15 September 2011). I just checked the article and surprisingly, it received the highest comments (163) of all my articles on Ghanaweb. I hope this one also generates the same level of interest and if not comments.
The post attributed to Ace Ankomah in response to the two videos posted by the two Ghanaians from the Diaspora (UK and US) claimed that Ghanaians in the Diaspora think they are clever and better than Ghanaians at home. I felt sad after reading his post because in my view, that was a simplistic conclusion to reach from the two videos. I must say that I did not agree with the abusive language used by the two women as well as the politicisation of the issues they were complaining about. In his response to the two videos by the same women, Dr Okoe-Boye also claimed in his video that the women were threatening the sovereignty of Ghana. I found this claim either bizarre or Dr Okoe-Boye had no understanding of what constitute state sovereignty. It was for the simplistic conclusion of Ace-Ankomah and Dr Okoe-Boye's apparent lack of understanding of state sovereignty that made me to pose this question for discussion.
As a Ghanaian with dual citizenship living in the UK and who visited our motherland twice in 2019, I find it difficult to accept that our actions and omission give the impression that we are better than our compatriots in Ghana. Any Ghanaian in the Diaspora, whether natural born Ghanaian, dual citizen or Ghanaian at birth (those born to Ghanaian parents in the Diaspora), we will be damn fools to think that we are better than our brothers and sisters in Ghana. That would be an insult and utter disrespect to the people of Ghana. I, for one do not see how I am better than my own brothers, sisters, nephews and nieces just because I live in the UK. Again, I cannot fathom how I will consider myself to be better than my primary and secondary mates, many of whom have served and continue to serve in senior management positions in public institutions in Ghana.
Therefore, any such claim by Diasporians is not only fallacious but also delusional. However, having contested the claim by Ace Ankomah, we must admit that there are differences in our behaviours, attitudes and practices which explain later. However, those differences do not make, we, the Adehyie Run Away Fuo (to borrow my good friend, Kwaku Azar's words) better human beings than our Adehyie Stay Home Fuo.
Before I go into the differences between the Adehyie Run Away Fuo and Adhyie Stay Home Fuo, it's important the import of the two videos is discussed and not ignored. The two women alleged that the COVI19 regime at KIA was not transparent and potentially a scheme to defraud travellers, especially Ghanaians in the Diaspora of their hard-earned foreign currency by using antigen test which is less reliable instead of the PCR test, then make them stay in a hotel at a cost of $150.00 per day for three days and tested on the third day using PCR test to clear them. That, had PCR test been used at KIA and not antigen, they would have been cleared but not had to stay at a hotel for three days to pay $450.00.
Taking away their abusive language and the political nature of their message, were their concerns of public interest that merited being listened to and addressing? I am not a medical scientist, but I read an excellent article on this subject by Kwame Asiedu Sarpong (see, "Unpacking the confusion surrounding testing outcomes at KIA", Myjoyonline, 1 August 2021), He suggested that perhaps, using PCR testing at KIA would have been better than the antigen test, though no testing regime is hundred percent accurate.
What is not clear from the videos is whether other foreign nationals tested positive at KIA and sent to the hotel for the three days isolation or it's only Ghanaians in the Diaspora who tested positive and were made to undergo the three days isolation and pay $450.00 accommodation bill? I don't know the answers to these questions but if the majority of the arrivals at KIA who test positive to COVID19 after the antigen test are Ghanaians in the Diaspora, then, there are questions to be asked and answers demanded because such results could be questionable and potentially race discriminatory.
I am aware that the two women alleged that the testing regime is a scam to get money from them for a private company. I suspect the allegation of corruption was based on the fact that, the woman claimed they tested negative before their journey to Ghana as well as the woman from UK carried out a COVID19 test using a testing kit from the UK which was negative. Perhaps that is what might have annoyed Ace Ankomah and Dr Okoe-Boye to conclude that the women claimed the testing system in the UK and US are better than in Ghana.
As Kwame Asiedu Sarpong concluded in his above-mentioned article, no testing regime is hundred percent accurate. In fact, reports across the globe suggest that countries and governments have profited from COVID19 through awards of contracts to their cronies with those politically connected benefiting both directly and indirectly. As I write, UK government ministers have been accused of awarding COVI19 contracts to cronies, including party funders, family and friends, etc. Charities have taken the government to court to challenge how COVID19 contracts were awarded and so far, the government has lost two cases at the High Court. A judge ordered the Department (ministry) of Health and Social Care to provide information and documents on COVID19 contracts to the Charity.
In addition to the alleged COVID19 contract corruption in the UK, the testing at airports that are managed by private companies is also in trouble as travellers complain that the testing system is a scam to rip them off. Those arriving in the UK from certain countries designated as green pay £50.00 per PCR test kit that are to be sent to their residential addresses to test themselves and the kits collected later but this is not happening in some cases. This week alone two media reports have appeared on this subject (see, "Ministers face call to intervene in scam Covid travel test system", Guardian, 10 August 2021 and "Air passengers fleeced by 'rogue operators' as PCR tests fail to arrive", Guardian, 12 August 2021).
Therefore, it's not only KIA COVID19 testing system, which is being questioned by travellers, but UK also has problems as well, except that in the UK it's not about the reliability of the tests but failure of the private companies to send or collect the test kits travellers have paid for. Again, in the UK, action will be taken as per the media report, ministers will act and if they fail to act parliament will haul them and the management of the private companies to the House of Commons for questioning, unlike Ghana where the travellers are dismissed as trouble makers who think they are better than everybody because they live in abroad.
Now back to my original answer that we, Adehyie Run Away Fuo are not better than Adhyie Stay Home Fuo but there are differences between us. What are the differences?After staying in our host countries for years and decades, we have integrated and adapted some positive attitudes of doing things such as complain when things are not right, unlike most Adehyie Stay Home Fuo who are used to not complaining. Second, we have shed our "fama nyame" mentality and not leave everything to God but act when things are wrong. Again, we are not used to giving bribes to workers who are paid to provide services to the public so we do not find it normal to give bribe for services to be provided to us, so, we may complain. We are also used to good customer services and if we do not get that when we visit the motherland, we are most likely to complain. Last but not the least, we experience racial discrimination in our host countries and are always fighting for our rights and what is due to us. Therefore, we find it unacceptable if we return home and are treated as second class citizens, we have the right to complain.
The above differences are on the average but not generic and therefore not exclusively applicable to Adehyie Run Away Fuo but there are many Adehyie Stay Home Fuo who will also complain in similar situations. Again, Ace Akomah and Dr Okoe-Boye are wrong to tag all Adehyie Run Away Fuo as believing that they are better than Adehyie Stay Home Fuo because we are all not the same. Again, Ace Ankomah should know that such assumed differences are not peculiar to Ghana and Ghanaians in the Diaspora but across Ghana and the globe. For example, in Ghana it's between the rural and urban dwellers, north versus south, educated versus the uneducated, etc. Unfortunately, such assumptions are negatives and divide us into they and us, we and them, etc. These do not augur well for nation building so, we must avoid them because there are more things that unite us as Ghanaians than divide us.
Regarding Dr Okoe-Boye's claim that the actions of the two women as exhibited in the videos are a threat to the sovereignty of Ghana, is ludicrous because as I pointed out earlier, he lacks understanding of state sovereignty. As this not a thesis on state sovereignty, I will restrict myself to only two elements of the meaning of the word as applied to nation state.
State sovereignty is in principle defined or determined by external and internal. External is international recognition of the of the nation state, her territorial area, including land and sea. The internal is the ability of the nation state to make laws and govern through their government. Ghana gained her independence on 6 March 1957 and was recognised by the international community as a sovereign state since then. She became a Republic and remained a member of the Commonwealth on 1 July 1960. I am unaware of any Diasporian who has acted in a way that has disturbed the sovereignty of Ghana since 1957. In fact, on occasions that Ghana's ability to make laws and govern has been disturbed those involved were military and police officers.
To question the efficacy and transparency of KIA COVID19 testing system is not tantamount to questioning the right of Ghana to make and enforce her own laws or threaten the sovereignty of Ghana because neither of them posed a threat to the security and territorial integrity of Ghana through their actions and omissions in question. Whether Ghanaians or foreigners, they have the right to question policies if implemented unfairly and they feel aggrieved.
Dr Okoe-Boye should abreast himself with what is state sovereignty is and he would know that those who pose a real threat to Ghana's sovereignty are politicians and public officials who negotiate and sign bad agreements and loans that are inimical to Ghana. Those who approve such agreements and loans in parliament and cause millions, if not billions of dollars in judgement debts to Ghana and rob the citizens off good roads, good school buildings, well equipped schools and hospitals, accessible and affordable clean water, electricity and many necessities of life.
Yes, Ghana must secure the health of her citizens and prevent them from contracting COVID19 imported from abroad. It is also in the interest of all of us to go through the COVID testing system at KIA because COVID19 is real and we pose a risk to ourselves and our family members if we are COVID positive and asymptomatic, refuse to adhere to the testing protocol at KIA and go into the community to spread it. We may not survive to apologise and therefore we should abide by the KIA COVID19 testing protocol but raise any concerns with the appropriate authorities to avoid the accusation of being better than our brothers and sisters at home.
In conclusion, Ace Akomah, Ghanaian Diasporains are no better than Ghanaians at home, but most have adapted to some positive attitudes and behaviours from their host countries that make them more likely to question what is not right than the average Ghanaians at home. How they do that is important so that they don't come across as arrogant and disrespectful to Ghanaians at home and Ghanaians in the Diaspora are all not the same. For Dr Okoe-Boye questioning policy implementation does not threaten Ghana's sovereignty but strengthens it. Ghana is stronger and better off if we are united as Ghanaians than divided into Ghanaians from abroad and Ghanaians at home. United we stand, divided we fall.
Kofi Ata, Cambridge, UK.