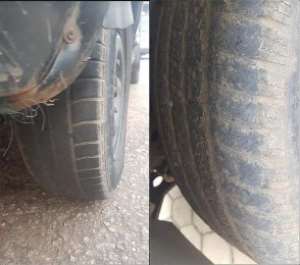 A different perspective to the numerous road accidents in Ghana
On 5th June 2019 during a conference and a training Workshop on Materials for Renewable and Sustainable Energy organised by the Department for International Development (DFID) at the Kwame Nkrumah University of Science and Technology (KNUST), Ghana, I happened to make some observations on some possible causes of road accidents by examining the tread surfaces of car and truck tires within the Kumasi vicinity. It was clear from my analysis why some road accidents occur and I concluded that some road accidents cannot be addressed merely through driving behaviour (such as asking drivers to have maximum rest) or having good road surfaces. Some experts and social commentators have made assertions that road accidents are mainly caused by drink-driving and the failure to check car brakes before each journey. I am shocked that the debate has not been extended in any significant degree to the technical specifications of tires, particularly on the tread of tires used by some of the private and commercial vehicles. Looking at the tread surface of Figure 1 below, it can be observed that this tire is worn and it represents one of the intermediate best tires found on Ghanaian roads. I will emphasize that this coupled with the road textures is one of the main causes of road accidents in Ghana and will not be allowed in any of the developed countries, which follows strict annual checks of vehicle safety, roadworthiness and tire profiles.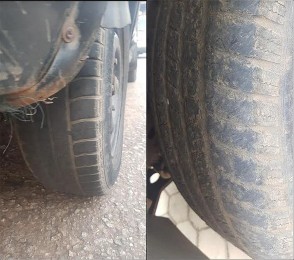 Figure 1. Worn tire tread surface of some car tires found in Kumasi, Ghana.
When you have a worn tire on a smooth surface, there is no guarantee of safety and the coefficient of friction on the road will be nearly zero. This means that no matter how careful the driver drives or the good braking system of the vehicle is, there will be an accident when confronted with sudden emergency stops. That is one of the reasons why some of the vehicles cannot stop immediately during an emergency but have to turn towards the side of the road or hit nearby packed vehicles. Looking at the profiles of such tires as shown in Figure 2, it can be observed that these tires cannot have good traction on the road. Surprisingly, some carcasses and steel compositions of the tires that protect the tires can be seen on some of the commercial vehicles without the tire tread. In those cases, the carcasses and steel compositions are weakened and that makes the tire very dangerous on Ghanaian roads. Most Ghanaians die based on some of these avoidable incidents and they attribute them to road
signs and drivers conditions. I can say with authority that when these problems are fixed, some of the road accidents will not occur. I do not know why there are no regulations on tire profiles that can manage road safety. The government should implement certain measures to curb these menace and I am happy to work with any Non-governmental organizations or government agencies on those strategies. Please note that some of these road accidents can be avoided if the right tires with the right profiles are used.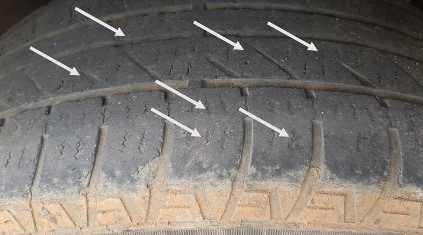 Figure 2. Detailed worn tire tread surface showing areas that could not support tread traction.
Apart from using worn-out tires, Ghanaians must know that there are different categories of tires used in different environments and must not use any tire they buy on the market on their vehicles. Before telling you the technical aspect of using different tires for different occasions let me inform the Ghanaian general public that there are two main categories of tires (Figure 3), a winter tire (tire 1) and a summer tire (tire 2). The winter tire is mainly used for winter weather conditions and the profile is designed to flush away any water debris on the tire profile. In addition to that, the material used for the winter tire is much softer (depending on the compound used) than the summer tires. Using winter tires in the summer leads to a waste of energy because much energy is required to get the same torque required by a winter tire than the summer tire. Talking to people in Ghana, I realised that they do not care about using the right tire design with the right profile.
Taking a look at the summer tires, they are tires that are designed to withstand high- temperature conditions whiles giving you much traction on the road. The profile (as shown in Figure 3) has been designed to have fewer sipes (small and medium grooves) that can provide enough contact on the road during hot weather conditions. Summer tires are good for the Ghanaian environment but the cost and negligence lead to people not following the right approach. I know some people just collect discarded tires from developed countries and shipped them to Ghana and other parts of Africa as second-hand tires and that is killing our people. There is no juju (i.e. black magic) or miracle behind it and it is pure negligence. The characteristics of summer tires are that they do not need to flush much water out of their grooves, and sipes, as the winter tires do but must be able to have good traction on the road surface during those hot weather conditions. This is the main reason why all summer tires
have fewer sipes and grooves. Meaning, using winter tires in Ghana, which is a hot climate country, promotes less traction on the road and might cause more accidents.

Figure 3. Winter (tire 1) and summer (tire 2) tire designs.
For heavy vehicles, there is also the need to use the right tire for the driving, steering and trailing axle. With trucks, there are drive tires and steering tires used for the specific axles and the misuse of them can lead to serious accidents on the road.
Technical review and reasons for the road accidents in Ghana
Technically, it will interest you to note that the temperature of any running tire increases to a maximum of 70°C (see Figure 4). This can cause the condition of the tire tread material to alter and affect their traction on the road. Some of the tire tread materials become softer than others while others lose their operational properties (i.e. heat build-up, resilience, cracking, wear, etc.) at those elevated temperatures. A serious problem then arises when the wrong tire is used. In Ghana, imagine what will happen when using a second-hand winter tire that undergoes such elevated temperature conditions. In such a case, this will already be a death trap for most drivers and passengers and care must be taken to curb this menace. Using such a second-hand winter tire under such conditions, the tire tread loses its operational properties completely and will not be able to protect the car and in an emergency, there may not be enough friction on the road for the car to stop.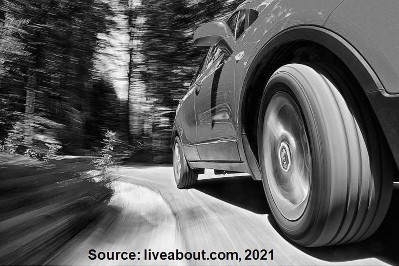 Figure 4. Running tire and its characteristics.
A critical look at the tread profile during usage reveals the bending of the tire tread and this is well known by all tire manufacturers (Figure 5). This is a result of the shear stresses that occur by the drive torque and under such conditions, the tread at the leading edge is absorbed, squashed at the middle of the contact area and released at the trailing edge. It is worth mentioning that these tire tread profiles have just picoseconds to touch the street/floor surface. Imagine what will happen if the profile has deteriorated and there is no tread material with enough profile. In such case, there will be no contact to the road surface under speed and there will be no good traction and serious accidents will occur despite the car being fully serviced or the driver being very cautious.

Figure 5. Deformation of tire tread during tire rotation.
Recommendations to curb road accidents in Ghana
I urge the government to implement legislation that ensures most vehicles use the right tire with the right profile characteristics and institutions resourced to enforce such recommendations.

I know most people may not afford the new tires but care must be taken to have good tire profile depth.

Truck drivers must ensure to use drive-truck tires for the driving axle and steering truck tires for the steering axel. Most of the truck drivers do exchange these tires and that affect their tractions on the road.
I believe, having these measures together with good road surfaces, excellent car conditions, as well as great driver conditions, can reduce road accidents in Ghana drastically.
The author
Dr Charles Darko, MIMMM, FHEA, CEng, PhD, M.Sc, BSc (Hons), PGCertHE, PGCertSec, QTS

The author is a lecturer in Polymer Science at the University of Manchester, having a BSc (Hons) in Mining Engineering, MSc degree in Polymer Science, PhD in Experimental Polymer Physics (Dr Rer. Nat.) and PgCert in Higher Education. He is currently a Professional Member of the Institute of Materials, Minerals and Mining (MIMMM), holds a Chartered Engineer
(CEng) status and also a Fellow of the Higher Education Academy (FHEA) status. The author has several years of Engineering Research and Development (R&D) experience at the Continental Tire R&D centre, Hannover, Germany.
Contact:
Email: [email protected]
Website: https://www.research.manchester.ac.uk/portal/charles.darko.html
Google Scholar: https://scholar.google.co.uk/citations?user=FOdwKpYAAAAJ&hl=en Researchgate: https://www.researchgate.net/profile/Charles_Darko2