Akatsi South: Assemblymember of Tatorme-Fiato donates PPE to schools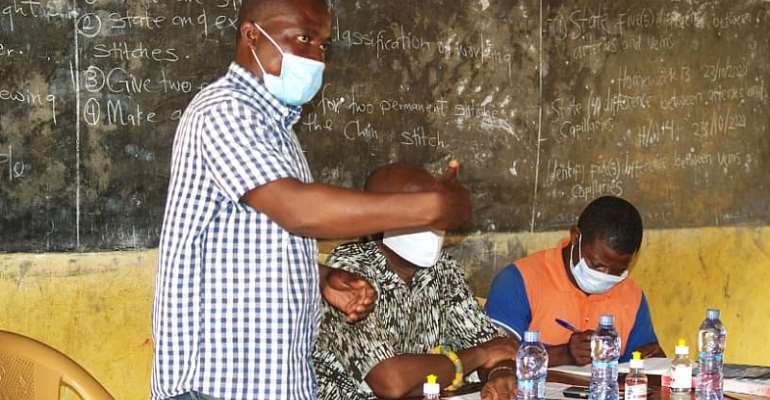 Mr Doe Edward Adade, the Assembly member for Tatorme-Fiato Electoral area in the Akatsi South Municipality of the Volta region together with some chiefs have donated some Personal Protective Equipment (PPEs) to some schools within the electoral area.
A total of 150 pieces of face masks and 200 hand sanitizers were given out to Akatsi Senior High Technical school and other private and public basic schools in the area.
Weedicides were also provided to schools by the chiefs since most schools were bushy due to the long break in academic activities.
According to the Assemblyman, the gesture was meant to address the calls from some schools of their inability to have assess to the government promised PPEs.
He said the donation would aid the fight against covid-19 in the municipality, especially in schools.
"We are not in normal times due to the presence of the virus hence the need to help prevent the spread especially in our schools," Mr Adade stated.
Torgbui Aho IV, dufia of Akatsi Mornenu in an interaction with ModernGhana News said, the lives of every individual matter especially at this crucial time that the virus is spreading faster.
He also urged every Ghanaian to adhere to the safety protocols outlined by government to help stem infections.
The meeting which was held at Duawodome basic school on Tuesday January 19, was highly attended by some Chiefs from Avenor, Assembly members, students, PTA representatives, opinion leaders and heads of schools.
They also used the gathering to plan for activities towards the academic year.