All Parliamentary Candidates In Ahafo Declare Election 2020 Violence-Free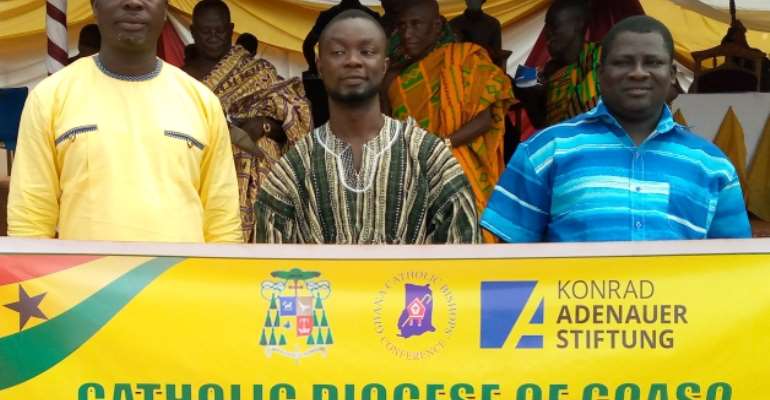 The Parliamentary Candidates (PCs) for Asutifi North Constituency in Ahafo Region have assured chiefs and people of peaceful elections before, during and after December 7.
The assurance was brought to bear when the Catholic Diocese of Goaso under the auspices of Justice and Peace Commission, Ghana Catholic Bishops Conference organised a Town Hall Meeting for the PCs to share their ideas to develop the Constituency in case they are voted into power.
The three, Patrict Banor of the New Patriot Party (NPP), Ebenezer Addo of the National Democratic Congress (NDC) and Kofi Anane, Liberal Party of Ghana (LPG) have agreed that with violence it will be extremely difficult for the constituency to develop as residents expect so henceforth they are for peaceful election.
In order to prevent any form of election violence, the three have decided to desist from using abusive words in their campaigns but instead they will propagate their unique ideas to the electorates to decide who they want as their Member of Parliament (MP) for the next four years.
"We've also educated and urged our campaign team members to devoid of using insolent language for peace to reign " Banor, Addo and Anane stated.
Again the three revealed, their followers have been sensitized to have modest celebrations after one is declared as the winner by the Electoral Commission to help prevent any form of riot between the party's followers which is common in the country.
" We've prepared the minds of our supports to accept the outcome of the polls which we believe the EC will handle it free and fair " they said.
Speaking on behalf of Kenyasi No.1 Traditional Leader, the Akyeamehene, Nana Owusu Brempong expressed gratitude to the organisers and the PCs for making the meeting fruitful.
He urged the three PCs to keep educating their followers on the need to maintain the peace the constituency is having because in the absence of peace there will be no development.
"Expose any member of your camp who tries to foment trouble before, during and after this elections and by so doing people will know that you're for peace " Nana Owusu Brempong, Kenyasi No.1 Akyeamehene stated.
Ernest Richard Amankwah Morgan, National Public Relations Officer, Ghana Catholic Bishops Conference (Justice & Peace Commission) said, the brain behind the engagement is to let people understand what the PCs have them to help them have firm decisions as to whom to vote for.
" They're on record so in case any unforeseen incident happens, we will hold them responsible " he stated.
Per the Ghana Police Service report, Ahafo Region has 80 hotspots ahead of the 2020 general elections with Asutifi North Constituency having three areas likely to witness violence if care is not taken.