Markets Disinfection: Gushegu, Kpatinga, Karaga Take Their Turn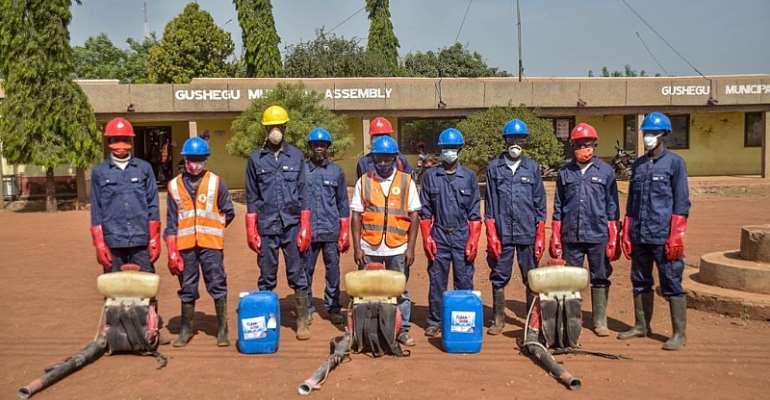 As part of precautionary measures taken by the Ghana Government to protect and safeguard the good citizenry against the novel COVID-19 in Ghana, 95 markets covering 9 District in the Northern Region, have benefited from the ongoing nationwide disinfection exercise.
The Municipal Chief Executive of Gushegu, Hon. Musah Issah in an interview, expressed his gratitude to the government, for collaborating once again with Zoomlion Ghana Limited to embark on the 3rd nationwide disinfection exercise at a time the COVID-19 pandemic is on the rise again.
He disclosed that the ongoing disinfection exercise would go a long way to reduce the spread of the virus and also, prompt the attention of Ghanaians and people of Gushegu in particular that, COVID-19 is real.
However, the MCE was a bit worried about the non-compliance of COVID-19 protocols at market centres in Gushegu and urged that they take the pandemic seriously to avoid contracting the virus for further spreading.
The people of Gushegu he indicated, are now living peacefully unlike before and assured of the Assembly's commitment to ensure that, peace is prevailed before, during, and after the 2020 general elections.
On his part, the District Manager for Zoomlion, Mr. Mahama Alhassan said, 12 market centres were captured in the district for the disinfection exercise emphasising that, even though they are prepared, they are confronting with resistance from the market operators who refused to vacate for them to carry out the exercise.
The Assemblyman of Kpatinga Electoral Area, Hon. Ziblim Alhassan says, he feels good that markets within his jurisdiction have benefited from the 3rd disinfection exercise.
He disclosed that, because they benefited from the first and second disinfection exercises, no case of coronavirus was recorded in the area.
Hon. Ziblim said a lot of sensitization exercise was carried in the markets by the Gushegu Municipal Assembly as to how to follow the COVID-19 protocols, hence zero COVID-19 in the area.
Among the community markets that benefited from the disinfection exercise in the Northern Region comprises, Gushegu, Kpatinga, Karaga, and Tamalgu.