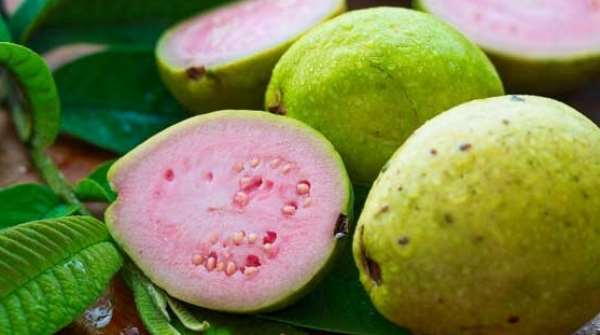 GUAVA PROMOTES HEALTH
GUAVA (Psidium guajava)
Guava is a popular tropical plant that grows anywhere in the tropics.
Guava leaves
The leaves of Guava plants contain helpful chemicals known as flavonoids. They are called quercetin, and quercetin-glycosides.
These chemicals help regulate the metabolic energy in cells by promoting AMPK activity.
AMPKs are cellular enzymes that help cells to burn fats, and store excess glucose as glycogen.
By so doing, AMPKs prevent Cholesterol, Triglyceride, and Fat build-up in the body.
Using Guava leaves every day, one could prevent metabolic diseases include
. Obesity, Diabetes mellitus, and Insulin resistance.
AMPK help cells to utilize cellular energy, economically. By preserving cellular energy, the cells are able to carry out cellular repairs, and remove cellular debris.
It is the inability of cells to do repair works, and remove cellular debris that lead to the chronic diseases like Alzheimer's dementia, Diabetes and Cancers.
You promote cellular health when you consume guava leaves on regular basis.
When the cells in the body are healthy, we tend to live healthier and longer
You can use guava leaves on regular basis.
Source:
https://www.hindawi.com/journals/ecam/2019/9209043/
https://www.sciencedirect.com/science/article/abs/pii/S0753332217362303
CARICA PAPAYA.
Pawpaw fruit, pawpaw seed, and pawpaw leaves have medicinal uses.
Pawpaw Leaves help prevent breast cancers.
Researchers in Indonesia have found that pawpaw leaves extracts do have antiproliferative, effect on breast cancer cells, as well as promoting cancerous cell deaths
Source: https://pubmed.ncbi.nlm.nih.gov/29023013/
Black Pawpaw Seeds help prevent Prostate Cancer.
Pawpaw seeds are rich in phytochemicals: saponins, tannins, polyphenols, flavonoids, and vitamins.
Unripe pawpaw contains white seeds; ripe pawpaw contains black seeds.
As papaya matures its chemical composition changes
Black pawpaw seeds do have about 2.5 times more polyphenols than white pawpaw seeds.
Pawpaw seeds are natural contraceptives for both males and females.
Pawpaw seed extracts have been shown to reversibly, reduce sperm production, sperm counts and fertility in rats.
Studies done in Virginia indicate that methanol extracts from black papaya seeds inhibited the proliferation of prostate cancer cells. White seed extracts did not.
The study concluded that black seeds from pawpaw may have a potential to reduce growth of prostate cells; however, consumption of white seeds should be avoided as they may stimulate pre-existing prostate cancer.
Source: https://jcmtjournal.com/article/view/2224/1623#
Other Benefits from Pawpaw.
The carotenoids in papaya are Antioxidants and help neutralize disease-causing free radicals.
Pawpaw fruit contain lycopene,which helps to protect the skin against sunburn and sun-induced skin aging, and skin damage.