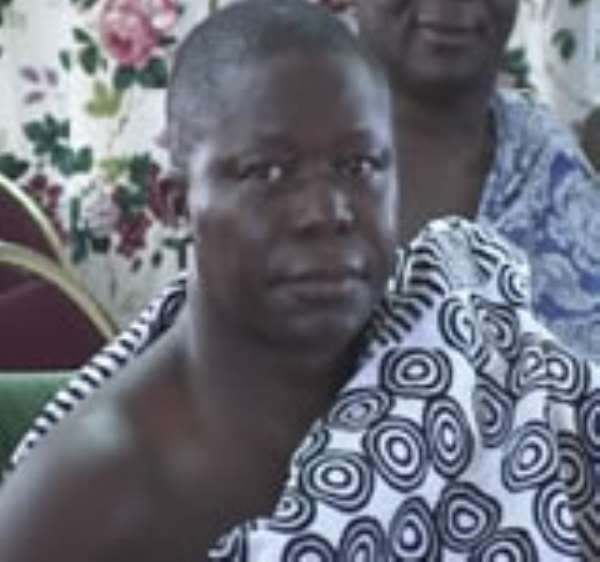 -- A section of Ghanaians Demand
…Lawyers for ACP Kofi Boakye say the entire nation has been taken on a wild goose chase ... As Committee failed to find missing cocaine
His Royal Highness, His Majesty, Otumfuo Osei Tutu II, has spoken once again to maintain his innocence in the cocaine saga and cautioned Journalists, Politicians and Social Commentators to stop hiding behind the 'curtain' of freedom of speech to continually question why the Georgina Wood Committee did not invite him to testify before it.
At a meeting in Kumasi last Monday with the Asanteman Council, Otumfuo questioned the basis for Journalists, Politicians and Social Commentators trying to drag him into a crime he knows nothing about and asked "what country are we building, where there is no respect for authority and the elderly"?
The Asantehene, who seems to have lost his temper and could no longer bear the vilification of his person and the Manhyia, told his Asanteman Council "the time has come for me to bite if such comments in the media continue".
The Leader of the Ashantis deplored the tribalistic tendencies taking over the Ghanaian society with Ashantis as the main target, describing the situation as an anti-Ashanti hate campaign and asked his people to resist the enemy responsible for this trend of affairs.
"Why are my Paramount Chiefs and subjects quiet when a section of Ghanaians are making adverse comments against Manhyia, especially in connection with the Cocaine scandal", Otumfuo asked.
"I am monitoring every move you make and if I discover that any of you is in league with any Journalist, Politician or a Social Commentator to bring my name or the good name of Manhyia into disrepute, whoever you are, you will have yourself to blame", he warned the Asanteman Council members.
But the big question now is how did Otumfuo's name come to be associated with the cocaine scandal? The transcript of the Kofi Boakye tape was the first to make reference to the Asantehene on page 1 in response to an argument with Alhaji Issah Abbas.
K B - "Ok then I did not understand you. We were therefore conducting investigations. Three days ago, I got a call from (OHENE) chief/King that they have information that some Columbians have come to town and that the goods belong the Columbians and that there were two Columbians who were on the ship before the goods were taken. It is suspected that the two Columbians have been killed and dumped into the sea. There are some Columbians in Abidjan who have arrived. And the Nigerian guy who brought the business has also started talking in Abidjan, Yaw Billa has also said somewhere that they have received goods".
Kofi Boakye again mentioned the Asantehene, Otumfuo Osei Tutu II on Page 9 when Alhaji Issah Abbas wanted to know why Adda had to be invited.
K B – "Look when it becomes critical, we will arrest Adda. Me myself, I will arrest him. Once my name has been mentioned, I must get to the bottom of this matter. I have told the Inspector General of Police (IGP). The other day it was Otumfuo who gave me the line. Otumfuo realized that my eyes are red. The IGP told him, if you know where the information came from that my name has come up in this matter and that I was asked to come. Once my name has been mentioned I have to clear my name but to clear my name, I have to know where the goods are.
Then on page 17 of the transcript Kofi Boakye mentioned Otumfuo again.
K B - In fact one thing he said was you don't know anything about this buisness. When you came I told you. I thank you all for coming that you now know I don't know anything about this, it is my NANA that came in that I don't understand. It is being quiet a long time I saw Alhaji. If I don't call him, he will not come. These days I call him when I have complains
Apart from the transcript, the name of Otumfuo also came up at the Georgina Wood Committee when ACP Kofi Boakye testified in camera. He disclosed to some senior Journalists what he told the Committee about the Inspector General of Police (IGP) and the telephone calls he received from Otumfuo Osei Tutu on two occasions.
Mr. Boakye had also told the Committee, this time not in camera, that when he sent his men to arrest Kwabena Amaning (Tagor), they met his absence so he asked them to leave a note in his house that a woman had 'lodged' a complaint against him so he should report himself but Tagor never showed up for three days. (Check final submission from Kofi Boakye's Lawyers)
He (Kofi Boakye) said he believed Tagor was in Kumasi when Moro called him to say that Tagor had gone to him to complain about he Kofi Boakye. (Incidentally, Moro had told the Committee that he lives in the Manhyia Palace and that he is there 24 hours).
Mr. Boakye said he told Moro he would not talk on phone concerning Tagor and asked Moro to bring him down.
He further told the committee that Otumfuo's Secretary, Mr. Owusu Boateng, came with Tagor to the Police Headquarters. In fact ths is the reason why Kofi Boakye's L:awyers are questioning why Mr. Owusu Boateng was not invited to testify.
Moro, according to Mr. Boakye, later came on the day of the meeting to inform him (Boakye) that he and Tagor were coming for the meeting.
Moro had also told the Committee that when they (he and Mr. Boakye) were leaving for the meeting, Kofi Boakye sought to speak to DCOP Adu Gyimah. Thinking that they wanted to arrest Tagor, "I listened to them but when I realized that wasn't the issue they were discussing, I agreed to go to the meeting".
He (Moro) had earlier told the Committee that Tagor had come to him crying asking to see Nana but when he asked him his reason to see Nana, he said it was personal so he Moro said that if it is personal then he cannot help him so he left him by the gate of Manhyia Palace.
(This statement by Moro was denied by Tagor, who said he is 100 per cent Ashanti so he does not need anybody's assistance to see the Otumfuo).
Moro said Tagor chased him up to his garage when he then agreed to tell him why he wanted to see Otumfuo and told him his problem with Kofi Boakye in connection with the cocaine.
He said he then agreed to come with Tagor and they met at the premises of TV3 before going to Kofi Boakye's rersidence.
Revealing his closeness to the Otumfuo, Alhaji Issah Abbas told the Committee he sold a car to the Asantehene, even though the transaction did not go through, the car remained at Manhyia for about five days.
Alhaji Issah Abbas, one of the cocaine barons, had also told the committee that he met Otumfuo through Moro.
He told the committee that he had information that Tagor had met with a Nigerian called Paul at the Crestal Royal Hotel at Dzorwulu on the drug issue.
According to him, Paul (the Nigerian) came to his house after the meeting with his wife, unknown to Tagor. Not long after, Tagor also arrived with Mr. Owusu Boateng, Otumfuo's Secretary and was surprised to find Paul there.
Alhaji Issa Abbas said Tagor even though surprised, called Paul outside for a chat for sometime and later left with Otumfuo's Secretary.
This piece of information that transpired at the Georgina Wood Committee hearing showed how close the Otumfuo had gotten with the arrested alleged cocaine barons hence his name kept on coming up at the sittings of the committee.
Surprisingly, apart from Otumfuo, no chief had been mentioned at the Committee, so would any Journalist or politician, considering the constitutional regime the country finds itself today, be wrong in asking that the Asantehene be called to explain his involvement with these alleged drug barons?
It was in this light that Lawyers of ACP Kofi Boakye, in their closing submission to the Georgina Wood Committee said, the Committee's report would be incomplete if certain personalities, whose names came up were not invited and this includes the Otumfuo.
They went further to recommend to the Committee that certain people should be re-examined in the light of new developments and cited Agyarko.
"The Ghana Palaver" source close to Manhyia has hinted that Otumfuo is already in possession of details of the report and since there was no adverse finding against him, he could afford to call his Asanteman Council to question its loyalty to the Golden Stool.
This newspaper has also been hinted that the government will be releasing the executive summary of the report today.
Our source also revealed that charges against the alleged drug barons are going to be dropped and new charges brought against them and this time it would include ACP Kofi Boakye, using the tape recorded conversation and testimonies of convicted drug dealers the committee interacted with at Nsawam.
It is no wonder therefore that Kofi Boakye's Lawyers referred to the possible outcome of the committee's work as a "wild goose chase" and justice would not have been done especially to their client, Kofi Boakye.