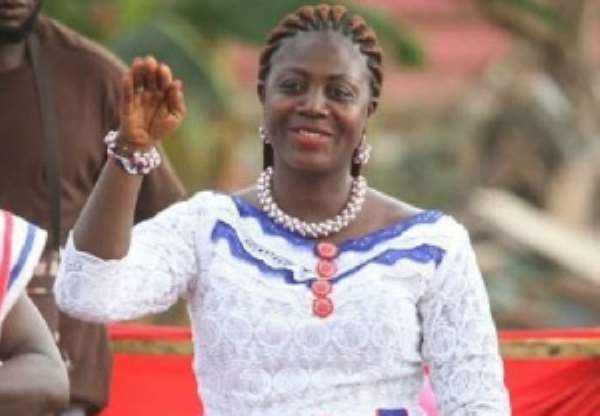 It appears the ruling New Patriotic Party Member of Parliament for Akwatia in the Eastern Region, Mercy Ama Gyamfi Bello, popularly called Ama Sey, is carrying through her threats to ditch the ruling party and contest the forthcoming parliamentary elections as an Independent candidate.
Some posters and banners of the Akwatia MP have been splashed at all vantage points in the constituency, announcing her entry into the parliamentary race after claiming that she was cheated in the NPP parliamentary primaries.
After the supposed gang up machination, her supporters asked her to stand solo
and following the persistent calls on the incumbent MP to contest as an independent parliamentary candidate in the December polls, she is believed to be ready to contest as an independent candidate.
The posters and banners prepared by a group called Friends of Ama Sey have a logo of a Nursing mother feeding a baby with the Ghana Flag at the background and quotes as" The Greediness Must Fade".
Ama Sey narrowly lost by four votes margin to Ernest Kumi in a four aspirant race of the constituency parliamentary primary.
After the end of the primaries, she reportedly complained that she was cheated, accusing the party machinery of replacing some ghost names in the party album to vote which cause her defeat
However, she has not publicly declared her intention to contest as an independent candidate but a source close to her confirmed she will pick the parliamentary forms when the Electoral Commission opens nominations even though the party hierarchy has called on her to change her decision.
While consultations are ongoing to calm her down, some party members and sympathizers are also mounting pressure on her to contest the general election as an Independent candidate.
Interactions with some of the party faithful and floating voters, revealed the incumbent MP has not been treated fairly by the party leaders during its parliamentary primaries.
The aggrieved supporters of the NPP drawn from Wenchi, Takrowase, Dwenase, Topremang, Appinamang, Akwatia, Boaduaas and Kusi last month stormed her residence after a float to had a word with her.
The floating voters including the aged and the physically challenged said they would do everything within their powers to persuade Ama Sey to contest solo in the parliamentary polls in December.
The group Friends of Ama Sey, at a presser, over the weekend claimed some level of greediness, naivety and barbarism have entered into some NPP bigwigs within the constituency and is time to pay back.
The group claims the parliamentary candidate elect, Ernest Kumi is unknown and only surfaced recently in the district level elections.
They are therefore urging Mercy Gyamfi to shut the beaks by running on the thicket of an independent parliament candidate.
They therefore vowed and threatened to vote skirt and blouse in the December polls.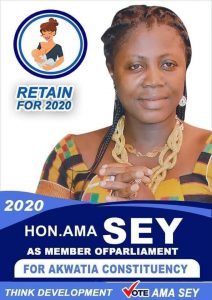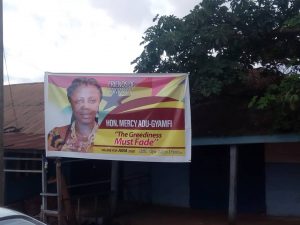 ---Daily Guide