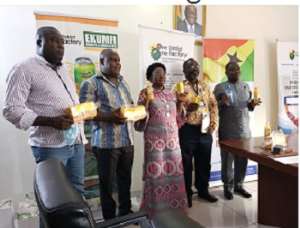 Gifty Ohene-Konadu (middle) with CEOs of the three award receiving companies
PRESIDENT AKUFO-Addo yesterday presented awards to some three companies which are operating under his administration's 'One District, One Factory' (1D1F) initiative in recognition of their efforts towards complementing government's vision of creating a 'Ghana Beyond Aid'.
The awards, which were presented to the owners of the three companies—Ekumfi Fruits and Juices Limited, Casa De Ropa and Petersfield and Rey Group Limited—through the National Coordinator of the 1D1F Secretariat, Mrs Gifty Ohene-Konadu, took place at a short ceremony in Accra.
Certificates were presented to the owners by Mrs. Ohene-Konadu on behalf of President Akufo-Addo.
The National Coordinator of the 1D1F Secretariat said the President was particularly impressed by the 'can do' spirit of the owners of these companies who defied the odds to bring their vision to fruition.
Noting that this was just the beginning, she said the President would similarly recognize other 1D1F projects that were at various stages of completion across the numerous districts of the country soon.
Frederick Kobbyna-Acquah, CEO of Ekumfi Fruits and Juices Limited; Anthony Dawson, Executive Director of Casa De Ropa; and Jonathan Dennis Abraham, CEO of Petersfield and Rey Group Limited, received the certificates on behalf of their companies. They took turns to express their profound gratitude to President Akufo-Addo and the 1D1F National Coordinator for the immense support they accorded them to bring their companies this far.
Ekumfi Fruits and Juices Limited, the first 1D1F projects, is a US$15 million project financed with a US$10 million Ghana Exim Bank and other shareholders' contributions. It commenced operations in mid-December 2019 and officially commissioned by the President on August 21, 2020. It currently employs 75 persons on the factory floor and a further 420 on the farms.
Casa De Ropa is a wholly-owned Ghanaian company located in Gomoa Bewadze in the Central Region. It produces and processes sweet potato into bread, chips, pizza and biscuits. It has plans to expand to Takoradi, Kumasi and other cities before the end of the year. Currently with a presence in Cape Coast, Winneba and Accra, it employs 150 people and hopes to engage over 1000 people at full capacity.
Petersfield and Rey Group Limited is a local agro-processing company that specializes in the production of quality and standardized fruit drinks, bottled and sachet water in the Komenda-Edina-Eguafo Abrem Municipality of the Central Region.
—Daily Guide